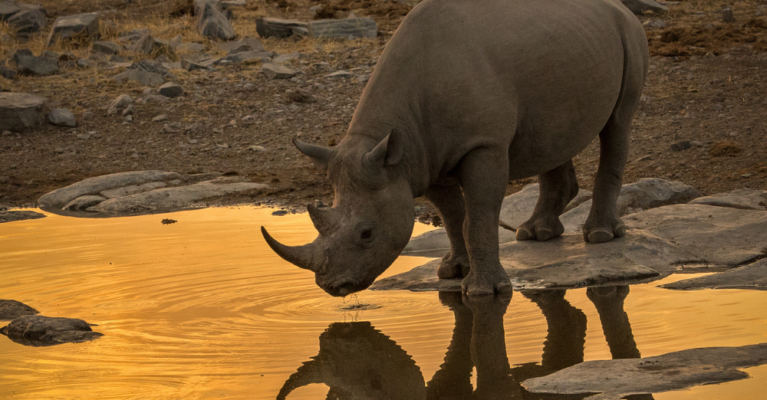 Credit: Michael J Cohen
For more than a decade, we have been battling two major crises in rhino conservation: surging poaching and shrinking habitat. Alone, each of these challenges has caused devastating impacts on rhino populations. Together, they have put rhinos at enormous risk. If the crises that rhinos have faced and continue to face have taught us anything, it's that we must be ready to adapt to whatever lies ahead, whilst keeping our end goal in sight. It is only thanks to the continuous support of people like you that this will be possible. Thank you.
Download our latest impact report
Increasing the protection and monitoring of rhinos is key to giving all five species a future. Much of our work centres on improving rhino protection, law enforcement and monitoring so that we can reduce the key threats facing rhinos: poaching and habitat loss.
Rhino Protection Units patrolled

6,167 km

in Indonesia last year, identifying more than 200 cases of illegal activity and recording more than 180 rhino signs.
Undoubtedly, the greatest threat to Javan rhinos is that the entire population exists in one single place. All 75 surviving animals live in Ujung Kulon National Park (UKNP) in the western tip of the island of Java. The species is extremely susceptible to disease outbreaks, earthquakes, tsunamis and volcanic eruptions, as well as facing challenges from opportunistic poaching by illegal fishermen and encroachment into the Park. To counter this threat and effectively monitor the population, expert four-person Rhino Protection Units (RPUs) patrol the rhinos' habitat every day.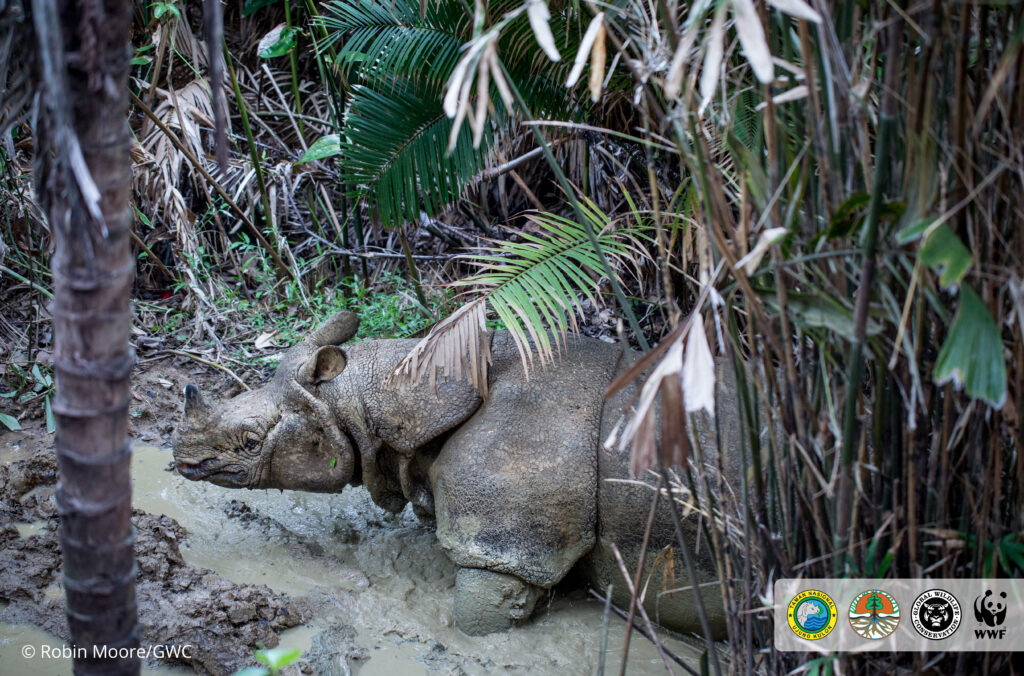 Poaching and wildlife trafficking are lucrative forms of transnational organised crime that have decimated populations of rhinos and other wildlife species. To combat this, we must bring people together to boost collaboration and learn best practice.
We brought

13

canine units together to share knowledge and develop partnerships across the African continent.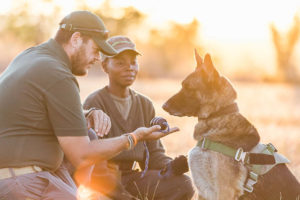 Over recent years, detection and tracking dogs have become increasingly important members of anti-poaching and wildlife protection teams across Africa. With their excellent set of senses and their non-corruptible character, the number of canine units across the continent has risen significantly. However, many of these programmes work in isolation, with very few opportunities to share experiences and gain knowledge from each other.
To address this challenge, we have helped to fund, coordinate, and facilitate workshops for antipoaching canine units across Africa since 2018. Unfortunately, due to Covid-19, in-person workshops were not possible in 2020 or 2021, but, as the network expanded and more canine units were established, the need to bring people together became increasingly important. So, our team got to work, identifying the most pressing issues and understanding how to organise virtual events that could benefit K9 teams across the African continent.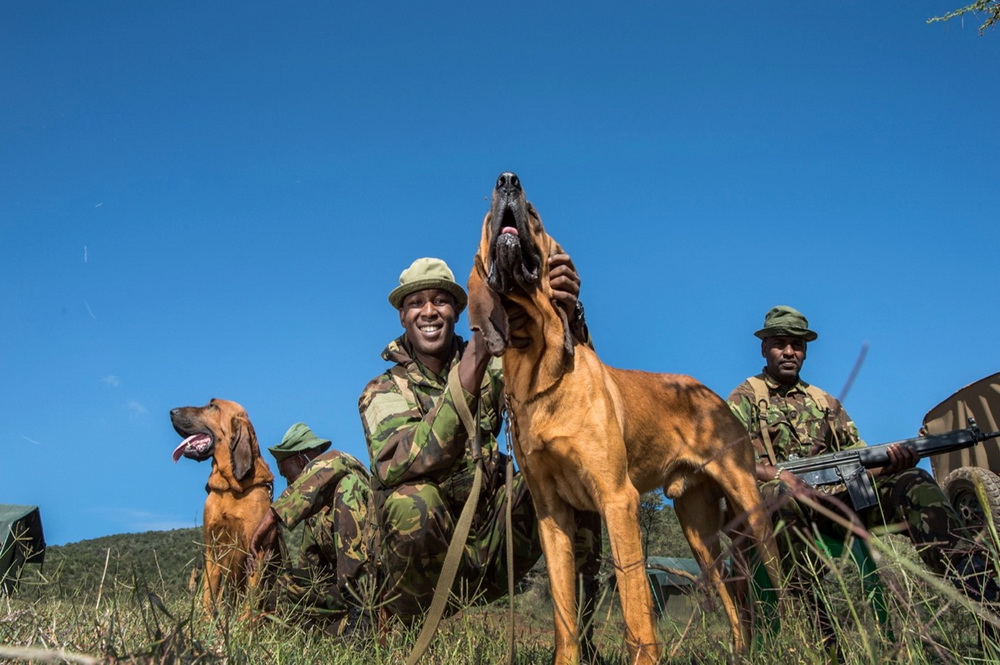 "I thought that the sessions were brilliant. The handlers were engaged and have proactively sought to implement their learning from the sessions."
Workshop attendee
It takes a community to save a rhino. By working with people living in and around rhino reserves and conservancies, and listening to what they need, we're connecting more people to rhino conservation and building future generations of rhino protectors.
Today,

20

schools, with more than 2,000 students, are reached by the Lolesha Luangwa education programme.
Poaching, habitat destruction, consumption of illegal wildlife products, human-wildlife conflict, pollution, climate change – these are all problems caused by people, and addressing them often involves leaving conservation biology behind and engaging with the human worlds of sustainable development and behaviour change. But, beyond conservation education at schools, we've got to reach more people, at every stage of their lives.
Today, the Lolesha Luangwa programme is engaging not only school 'conservation clubs' but also a wide range of adult community groups, running classes and initiating projects to help people understand the value of their wild landscape and live safely and sustainably alongside wildlife.
In the past couple of years, life around North Luangwa has been severely disrupted, first by political unrest and criminal gangs, and then by the Covid-19 pandemic. Through these difficult times, the interdependence and mutual support between the Park and the communities living around it have been more important than ever.
Stopping illegal wildlife markets needs action on several fronts – strong laws need to be in place, those laws need to be enforced and, crucially, the public need to support the law rather than supporting the illegal trade.
The impact of

Covid-19

on illegal wildlife trade has been huge.
The pandemic has, of course, been horrendous for everyone and devastating for those who have lost loved ones. But for those of us working on reducing demand for illegal wildlife products,
there was a potential silver lining to this otherwise very dark cloud – the wildlife trade that had for so long been a more niche conservation and biodiversity issue had suddenly switched to being a public health issue, which of course engages a much wider audience. We were greatly encouraged when the Chinese Government banned the consumption of wildlife products, but we clamoured for more information – what did 'consumption' mean? What was the legal status of this ban?
So far, the great shift in public attitudes we were hoping for does not appear to be happening; as lockdowns lift, people seem to be returning to wild meat restaurants and traditional forms of medicine based on wildlife products. Perhaps the greatest hope in the coming year will be at the government level, where different agencies seem to be working together on a 'One Health' approach. The impact of that change may be slower and more subtle than a sea change in public consciousness, but it may nevertheless have a significant impact on reducing future demand for rhino horn.