World Ranger Day – What is a ranger?
A ranger is a protector and carer, a guide, sometimes a police officer, a community champion, a communicator, a conservationist. And so much more. No simple word or sentence can encompass all that a ranger is or does, or convey the importance of their work. But one thing is for sure: rangers are critical to the protection of rhinos and other endangered wildlife.
Their daily patrols cover huge areas to monitor rhinos and deter poachers. If a rhino is killed or wounded, they do everything possible to care for the animal and investigate to track the criminals. And they work with people in their local communities to share their knowledge and passion, encouraging people to love wildlife.
Yet, despite their essential role and the incredibly dangerous circumstances they regularly face, rangers often work without the support they desperately need and thoroughly deserve.
A 2019 report highlighted that, on average, rangers in Asia and Africa worked 70-90 hours every week; more than half bought their own boots and uniforms; and, in one 12-month period, just 26% of rangers in Africa and 11% in Asia received vital emergency first aid training that could save their own or their colleagues' lives.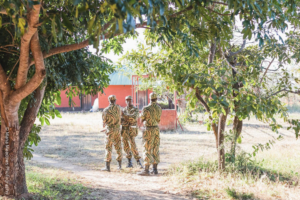 What's more, fewer than 50% had access to an employee insurance scheme that provided compensation for serious injury at work, or a job-related fatality. With many rangers being the main provider for their families, and often coming face-to-face with armed poaching gangs, the statistic is shocking.
And that was before the Covid-19 pandemic. With the almost overnight shutdown of international tourism, funds that might have provided more sophisticated security systems or advanced training to support rangers' work disappeared. Over the past year or more, wildlife reserves have been scrambling to find enough funding for basic costs like paying salaries, putting fuel in vehicles and buying PPE.
In the meantime, while many of us have wrestled our own Covid challenges, the rangers never stopped working: conservation never went into lockdown. Sometimes unpaid, often under-resourced, regularly away from friends and family for long periods because of movement restrictions, rangers have carried on putting themselves on the line to protect the wildlife that they, and we, hold so dear.
For those of us many miles from rangers and rhinos in the wild, the most we can do, and the very least we can do, is to get their backs. We can all make a difference; we can ensure that, in this most difficult of time, rangers have the equipment and training they need to do their jobs effectively and to come home safely to their families.
In recent months, alongside our partners, Save the Rhino has provided training for rangers in Kenya to improve their skills, safety, and effectiveness in the field. We've sent patrol medic kits to ranger units within the Association of Private and community Land Rhino Sanctuaries. And we've purchased new uniforms for rangers at uMkhuze Game Reserve in South Africa.
So today, on World Ranger Day, your donations can help us give more vital support to rangers in Africa and Asia.
Today, and every day, please help us support rangers. Donate now.
Thank you.