Rangers are exposed to extreme situations, including tough weather, dangerous animals (big and small), large, powerful machinery, and of course, armed poaching gangs and livestock rustlers. Given these conditions and the critical importance of a ranger's work in protecting endangered wildlife, you might think that rangers have access to effective equipment, regular training, and insurance to support them if they're injured or killed at work. Unfortunately, this isn't always the case.
Since 2015, ForRangers (an initiative set up by Pete Newland and Sam Taylor), in partnership with Save the Rhino, has been working to improve this, donating more than US$2.25 million to support rangers' lives.
Across Africa, more than half of wildlife rangers don't have access to insurance if they are seriously injured or killed while on duty. This alarming statistic doesn't only put rangers at considerable risk, but their families as well. Many rangers are the breadwinners in large and extended households. Without support, the people that depend on them – daughters, sons, wives, husbands, mothers, fathers, nieces and nephews – could be left not only without someone they love but also with increasing financial burdens.
To improve this, since 2018, ForRangers has funded a group life insurance policy, which now, in 2022, extends to 3,263 rangers working in 62 protected wildlife areas in 11 African countries, in collaboration with the Game Rangers Association of Africa. Since the ForRangers policy began, there have been 17 claims in total. Unfortunately, this has included incidents where rangers have died, and the policy has helped to support their families.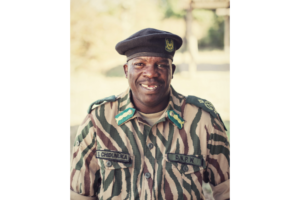 One of these rangers was Solomon Chidunuka.
Solomon Chidunuka was the Senior Wildlife Warden of Muchinga Province in North Luangwa National Park, in Zambia. He began his wildlife protection career in 1989 and was dedicated to wildlife and conservation throughout, rising through the ranks of management and receiving international awards for his work. He gained and maintained the respect of his colleagues, tourism operators, communities, and conservation NGOs. Many considered Solomon one of the strongest wardens in Zambia; indeed, he was the winner of the Tusk Wildlife Ranger Award in 2017.
Sadly, in February 2021, Solomon passed away.
While nothing will ever make up for this loss, the insurance policy purchased by ForRangers meant that his wife, Rachel, and their children have been supported since Solomon died. The title to their property has been secured and Solomon's children will be able to finish their education.
Unfortunately, Solomon wasn't the only ranger that passed away last year. It's understood that between July 2020 and June 2021, 119 rangers lost their lives while on duty. Yet, with 50% of all wildlife rangers without access to life insurance, it's likely that many of these rangers' families were not supported after their tragic loss. This is one of the reasons why ForRangers' work is so important.
You can help protect rangers, and save rhinos, this July
Insurance provides support to rangers partners, children, parents and other family members, when they're going through an incredibly difficult time. Nothing will truly overcome the loss of a loved one, but at least the thoughts of financial crises can be eased.
Throughout July 2022, we're raising funds to help pay for the ForRangers insurance scheme. To insure a ranger for one year costs just £36. If you can donate, please consider helping to support a ranger and their family today. Donate now.
---
A version of this article was originally printed in our annual supporter magazine, The Horn.