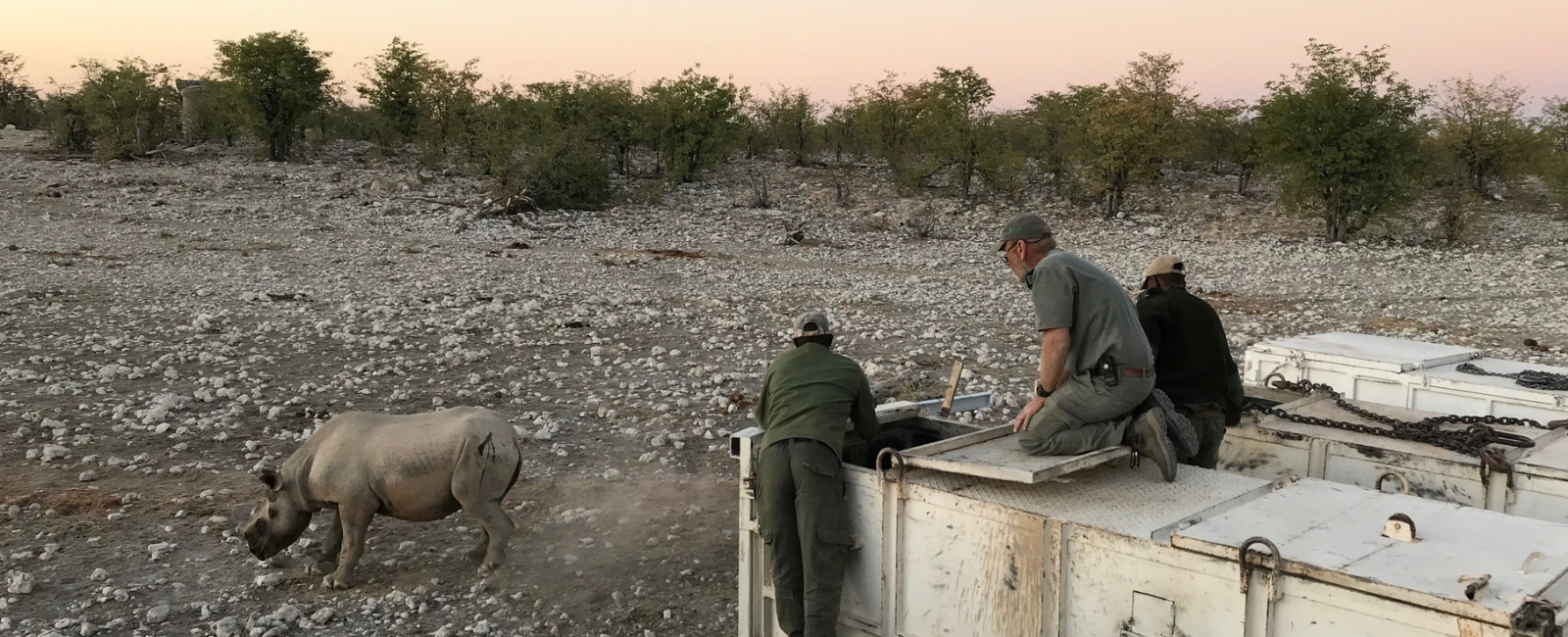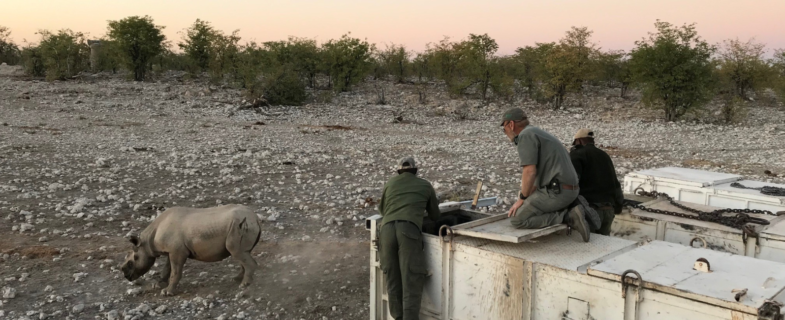 Namibia: Ministry of Environment, Forestry and Tourism
Namibia holds more than a third of Africa's black rhino population and is a stronghold for the South-western black rhino subspecies. With the ever-present threat of rhino poaching, the future of black rhinos in Namibia will depend largely on its ability to protect this important rhino population.
Namibia's Etosha National Park is home to the world's largest population of black rhinos and, when incorporating populations of the Waterberg Plateau Park and Kunene Region, makes up most of the country's black rhinos. Additional smaller populations can be found in Namib-Naukluft, Khaudum and Mangetti National Parks, Hardap Game Reserve, and various private reserves and community conservancies under the Black Rhino Custodianship Programme.
The problem
Threats facing rhinos are now greater than ever. A loss of available habitat, economic consequences of the Covid-19 pandemic and reduced breeding performances (due to populations exceeding the carrying capacity of a given habitat), accompany the ongoing poaching crisis. Like many other rhino range states across Africa, funds have been increasingly channelled into costly anti-poaching operations and beefing up security and routine rhino monitoring in Namibia.
The changes put into place by the Ministry of Environment, Forestry and Tourism (MEFT) have clearly had an impact on the poaching threat, given the rise and then decline in poaching incidents across Namibia between 2012 and 2016. However, during 2022, rhino poaching in the country increased again – perhaps as criminal syndicates moved away from already depleted populations in South Africa's Kruger National Park. It is therefore essential that the Ministry maintains its intensive rhino anti-poaching and monitoring efforts, which act as a deterrent to would-be poachers.
How is the Namibia's Ministry of Environment, Forestry and Tourism tackling this problem?
The MEFT was established in 1990 and is responsible for the safeguarding of Namibia's environmental resources. The mission of MEFT is to maintain and rehabilitate essential ecological processes and life-support systems, to conserve biological diversity and to ensure that the utilisation of natural resources is sustainable for the benefit of all Namibians, both present and future, as well as the international community, as provided for in the Constitution.
With poaching still a severe threat to the country's >2,100 black rhinos, the Ministry prioritises activities that help to keep Namibia's rhinos safe. Black rhinos in high-risk areas that are frequently targeted by poachers are either translocated to safer areas or dehorned. Such operations are carried out when necessary to deter poachers and some rhinos may be fitted with satellite units in their horns or foot bracelets to enable the teams to monitor their movements.
MEFT collaborates with the Namibian Police Force, National Defence Force (NDF) and National Intelligence to tackle wildlife crime. The Blue Rhino Task Team has been established by the MEFT's own Investigation Unit, which handles all pangolin-, rhino- and elephant-related crimes. Save the Rhino Trust (SRT), one of our closest partners, has signed a Memorandum of Understanding (MoU) with MEFT and works closely with the Ministry to monitor the desert-adapted black rhino population in the Kunene Region.
With the realisation by the Namibian Government that the best way to maximise population growth rates is to create new populations in state protected areas as well as on private and communal lands, the Black Rhino Custodianship Programme was established in April 1993. The first six state-owned black rhinos were translocated to a private landowner once an MoU had been signed with MEFT. Today, there are more than 30 such Custodians, including game ranches, communal conservancies, and commercial farms.
Unfortunately, due in part to the rising costs of keeping rhinos safe from poachers, fewer applications for the BRCP have been received in recent years, meaning that less habitat is available for Namibia's growing population of black rhinos.
To counteract this, a Custodian Strategy, similar to Kenya's Association of Private and community Land Rhino Sanctuaries (APLRS), is being developed. This Strategy will facilitate coordination and collaboration between the many conservancies involved to share best practice, acquire bulk orders of essential items at discounted rates and support the current partnerships between MEFT, Custodians and associated NGOs..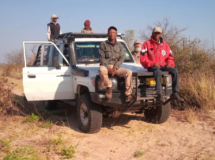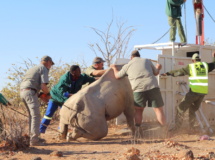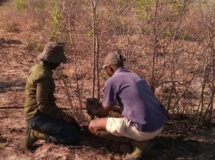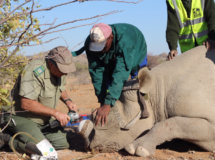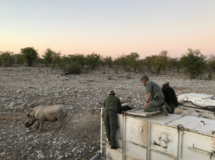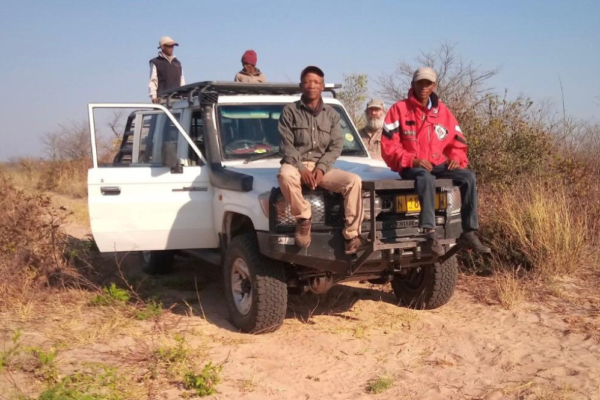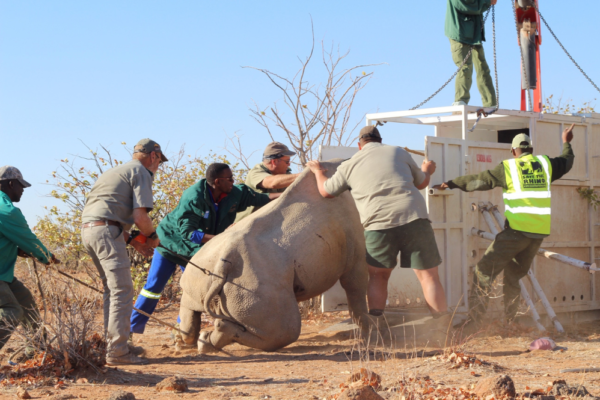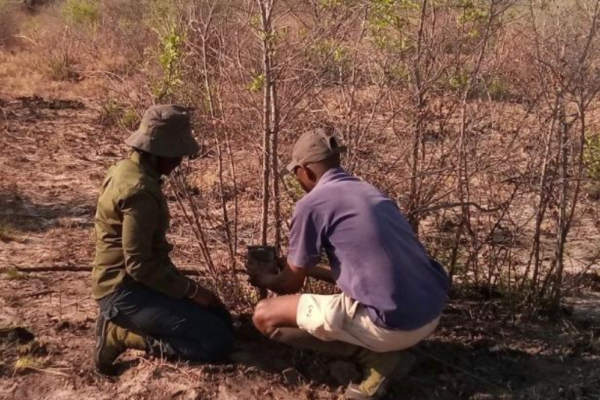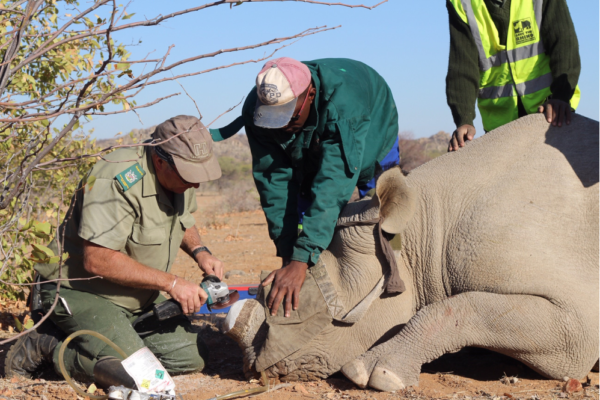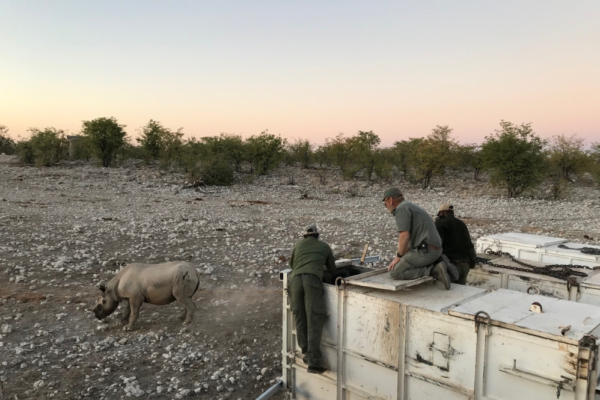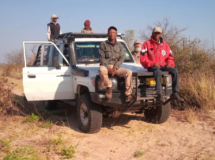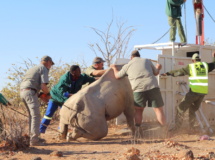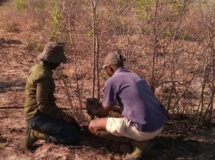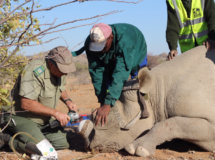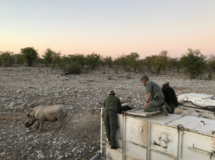 Our work
Save the Rhino International has supported the work of Namibia's Ministry of Environment, Forestry and Tourism since the 1990s. Our funds have helped towards the costs of the annual rhino translocations, ear-notching operations, and radio transmitter implanting programme. In addition, our grants have helped to purchase various rhino monitoring equipment and supported overall rhino management in Namibia.
However, the current global economic situation is causing even the most basic of commodities to rise in cost. This has had implications for MEFT's essential activities as fuelling the multiple helicopters and trucks required for ear-notching, dehorning and translocation operations becomes increasingly expensive. As this situation worsens, we thank you for your continued support for Namibia's rhinos.
Protecting Rhinos
Reducing Illegal Horn Trade
Involving Communities
Bringing Experts Together