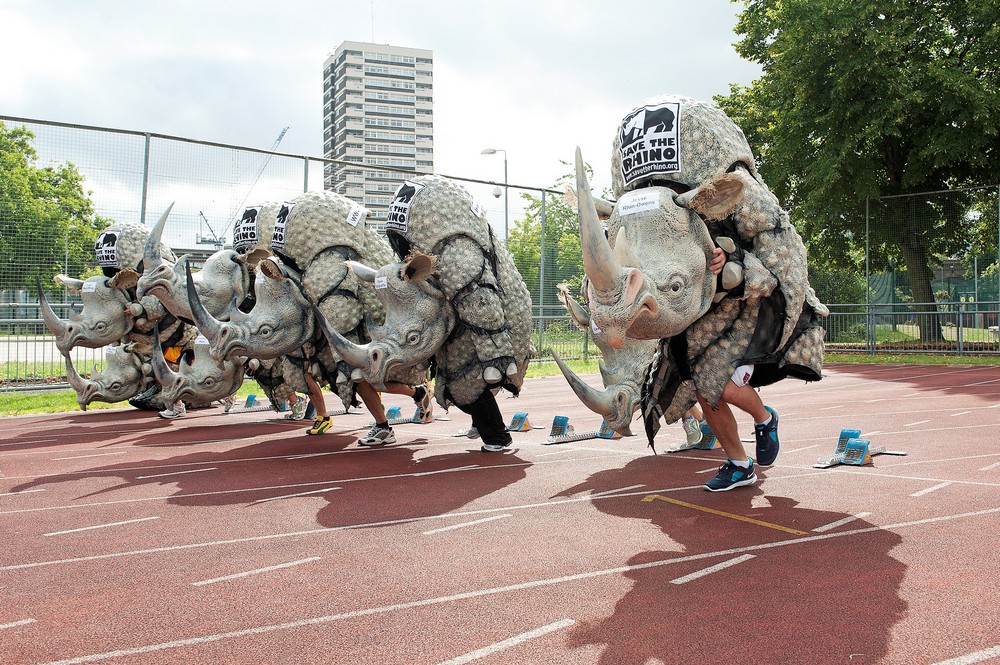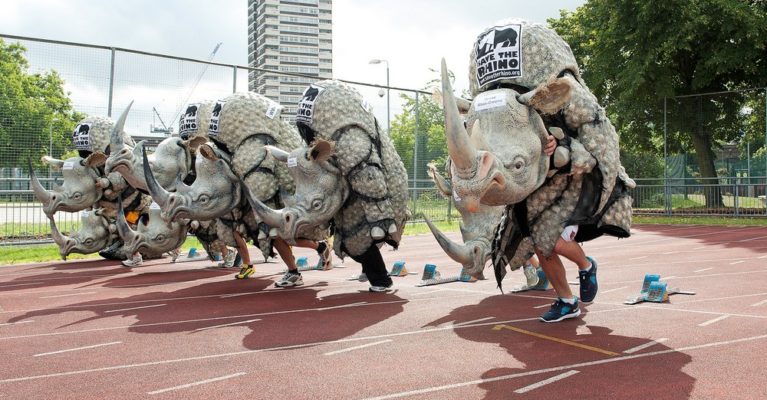 Credit: Dominic Nicholls
The original rhino costumes date from 1989 and were designed by Gerald Scarfe for a musical named Born Again, directed by Sir Peter Hall (founder of the Royal Shakespeare Company) at the Chichester Festival Theatre. The musical was based on Ionescu's absurdist play Rhinoceros, in which all but one of the inhabitants of a small French town gradually turn into magnificent horned beasts. The costumes themselves were built by Niki Lyons, who has also worked on Teletubbies and for the Jim Henson company.
Save the Rhino's Founder Directors Dave Stirling and Johnny Roberts approached Gerald Scarfe after the production had closed, and the Sir Peter Hall Company kindly agreed to donate the costumes to Save the Rhino. The costumes made their fundraising debut at the London Marathon in 1992.
In the following years, Save the Rhino's costumes were worn in marathons all over the world, including Paris, Boston and New York, and even made it to the top of Kilimanjaro in 1994, worn by Save the Rhino's Founder Patron Douglas Adams. In 2002, a new desert-adapted costume was commissioned and later worn by teams including our Trustees, Founder Director, Dave Stirling, and current CEO Cathy Dean, in the 150-mile Marathon des Sables in the Sahara Desert and the 150-mile Atacama Crossing.
Save the Rhino also has a child's rhino costume, dating from the original 1989 production and suitable for young children. If you are interested in borrowing the child costume, we are happy to lend the costume out to schools and youth groups who are fundraising for Save the Rhino, contact us at: fundraising@savetherhino.org.
At the London Marathon
Our rhino costumes are famous around the world for their role in the annual London Marathon, where they are the most recognisable icons of any charity. Around 17 runners complete the marathon in costume every year. Our costume runners often say they feel like celebrities along the route, getting a huge amount of attention and cheers from the crowds, and often being stopped for interviews by the press.
Running in a costume generally adds around an hour (or longer!) to runners' times, but the current record for completing a marathon in rhino costume is held by Rhino Boy Chris Green, who finished in an incredible time of 4:06:35 in 2021.
Costumes for the London Marathon are in very high demand, and we often have a waiting list of runners hoping to run in a costume. If you want to complete this iconic rhino challenge, make sure you get your application in early! Contact us at events@savetherhino.org for more information about running the London Marathon with Save the Rhino.
Our rhino costumes are also available for marathons, half marathons and other races across UK. Check out our events page for our charity places. Or if you already have your own place in an event, contact us at fundraising@savetherhino.org.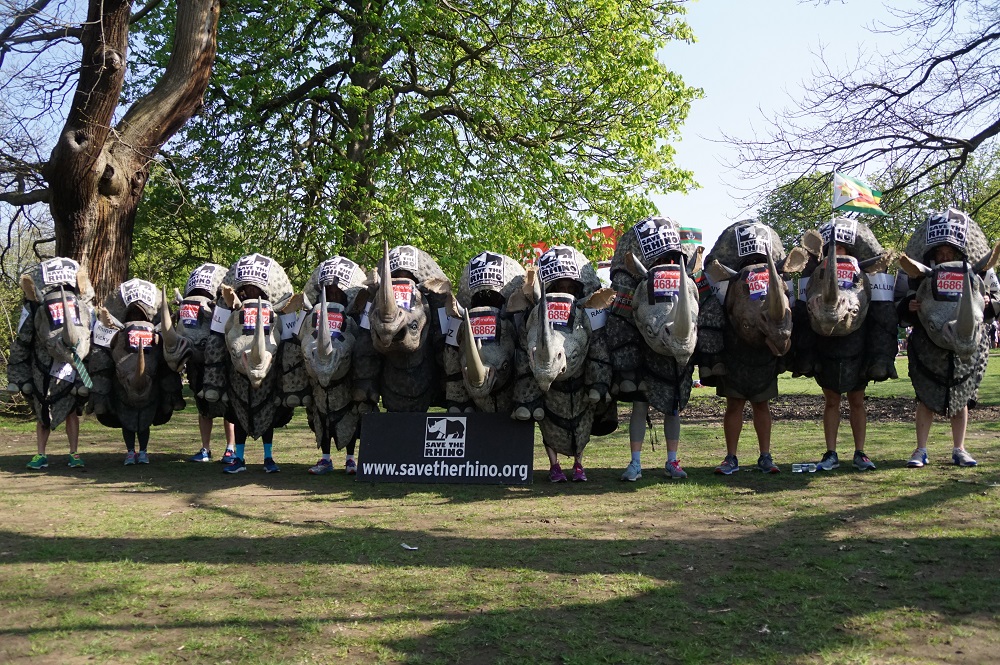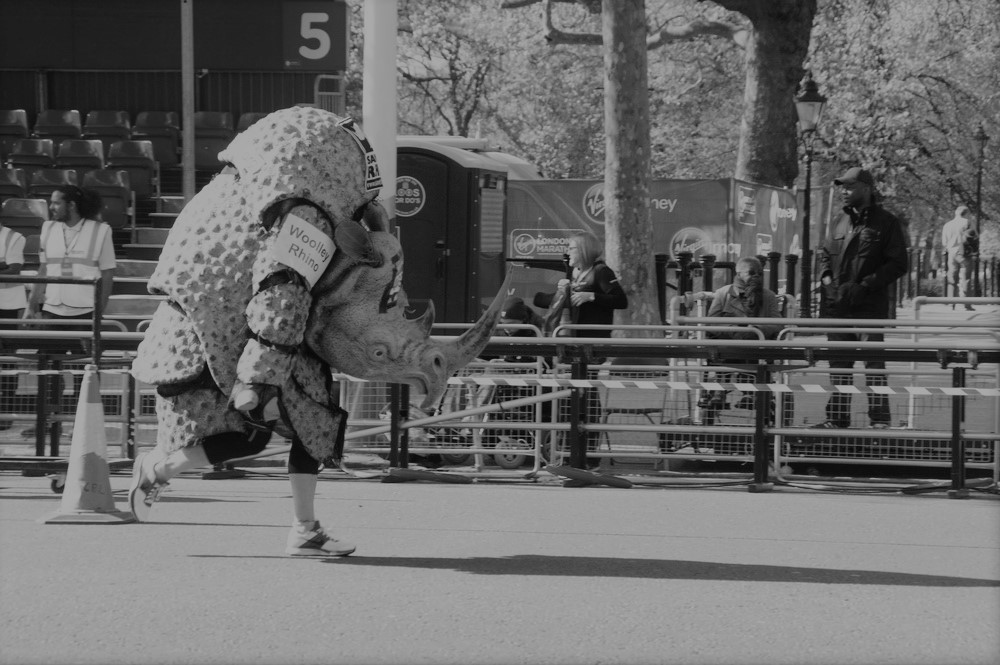 Costume records
Fastest marathon (male): Chris Green (Rhino Boy Chris) - 4:06:35 (2021), Fastest marathon (female): Liz Winton - 4:55:46 (2019), Fastest half-marathon (male): Chris Green (Rhino Boy Chris) - 1:50:05 (2021)
Frequently Asked Questions
Cathy Dean, Save the Rhino CEO and veteran of many costume marathons and ultra-marathons, answers your questions:
How heavy are the costumes?
Our newer costumes weigh around 8kg, with the original costumes slightly heavier at 10kg. Almost everyone who tries on a costume remarks that it's much lighter than they'd imagined!
How does it feel to run in one?
It's not the weight that's the biggest factor for any runner wearing a rhino costume, it's the restricted visibility (you have to crane your head forward if you want to see more than 3 metres ahead of you), the heat, and the way the head bobs around in front of you, particularly if there's a crosswind. It means that you end up holding the head steady, with your arms locked in a completely unnatural position as if you're running while holding a tea-tray, and by mile 12 that posture starts to give you back problems.
Does it get hot inside?
Neil Bridgland, who was our Events Manager for 10 years, always used to say it was like running in a crisp packet – noisy and sweaty – and that's absolutely right. When I was running across the Sahara Desert, it was 53 degrees in the shade (there was no shade) but the air was so dry that all the sweat evaporated off you immediately, and it was only if you licked your skin that you realised how salty it was. But 2 minutes in the rhino costume, and you'd have a waterfall of sweat pouring off you – it condensed inside the suit, and you have the whole problem of sweat and suntan lotion pouring into your eyes. Another little challenge…
Do people train in the costume?
I always advise people not to train in the cozzie. The awkward running posture / gait risks giving you an injury before marathon day, best avoided. It is a good idea to train with a weighted rucksack on, to get used to the additional 8-10kgs and so that your trainers don't give you blisters in new hotspots on the day. Also, if you ever actually spent any time in the costume before the big day, you'd start to seriously wonder whether it was all worth it, whereas during the London Marathon itself, the crowds cheer you so loudly you feel like a film star on the red carpet the whole way round, and nothing can stop you getting to the finish line.
What material are the costumes made from?
The original rhino costumes are made from plasterzote, a kind of rubberized foam attached to plastic hessian like mailsacks. The newer costumes from 2011 are instead hung on a breathable mesh to allow for a (slightly) more comfortable running experience. The heads of all our rhino costumes are a very light hollow plastic.
How do you see out of the costume?
 You can see over the rhino's head, as it rests on metal arms on the front of the costume. You certainly wouldn't want to run a marathon bent over double looking through the rhino head! But you have very limited visibility: you can see your feet if you look straight down, and then about 3 metres ahead if you; if you want to see further you have to duck your head down at an awkward angle. People are always really nice to you at the water stations and help with passing you a gel or a bottle.
Can I borrow one?
Our rhino costumes are often used for marathons and half-marathons in the UK, as well as other activities such as fundraising collections, and school and zoo fundraising days. Taking the costumes abroad is often difficult, as the costumes have to be collected in person from Save the Rhino's London office. Please get in touch if you are interested in using a rhino costume for fundraising and we will happily provide further advice.
If you're interested in completing an endurance event in a rhino costume, please contact us at fundraising@savetherhino.org.