I have never been a K9 fan. Especially in a small 400km2 size reserve like uMkhuze. Especially where fiscal support and manpower are dwindling at an increasing rate. Dogs are admin. Dogs are hard work, and dogs use a lot of resources. There are many excuses. But then, I have been wrong before, many times!
It all began to change when I told the owner of a K9 unit during a rhino security assessment that dogs are useless (tongue-in-cheek, that is). He took the bait, hook, line, and sinker. Then he made it his goal to change my mind. And he did. Not only that, but Conrad de Rosner of K9 Conservation went the extra mile and secured funding for uMkhuze to have its own K9 unit through Canines for Africa (K94A). In addition, K94A also secured the funding to train two members of the uMkhuze Anti-Poaching Unit as handlers.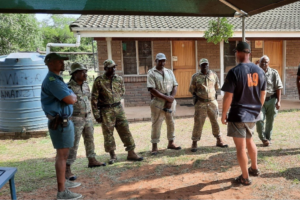 And so, it all started in November 2020 when Khulekani Buthelezi and Lihle Sonjica went for training and to meet the new love of their life, Hunter, a Fox-X-Bloodhound cold-scent dog. And she is amazing. As part of uMkhuze's effort to become a fully-fledged smart park, the K9 Unit is yet another tool in our fight against rhino poaching and to improving the protected area's integrity.
The deployment of additional force multipliers at a large scale in uMkhuze has not only assisted in deterring potential poachers but also enabled the early detection of incursions. This is where the K9 Unit comes in beautifully. Early detection enables the rapid deployment of a tracking dog to a known incursion position. This has proven very effective and, to date, Hunter has been instrumental in three arrests. In addition, our ability to respond and follow up outside of uMkhuze's boundary as the mandated provincial environmental law enforcement agency has sent a clear message to poachers that we will not leave any stone unturned.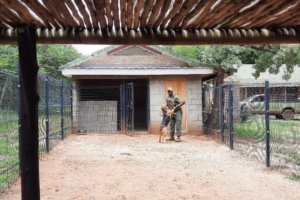 And yes, it's not all sunshine and roses. There are challenges and unforeseen expenses. But this is where the support from all of you has been amazing. Simply, because we cannot do it on our own. Save the Rhino and its donors have been incredible in their support. The uMkhuze K9 Unit has joined Save the Rhino's virtual Working Dog Workshops, an international initiative that gives the team access to a collaborative platform, learning materials, and interactive training. So many people have contributed, and even before we could start worrying about Hunter's food, Hill's Pet Food in South Africa was on board to support her with the best performance food for working dogs. Brilliant!
To conclude, a wise old man once said:
"I have found that it is the small, everyday deeds of ordinary folk that keep the darkness at bay. Small acts of kindness and love." Gandalf the Grey – The Hobbit 
Written by Eduard J. Goosen, Cluster Conservation Manager, uMkhuze Game Reserve. A version of this article was originally printed in our annual supporter magazine, The Horn.