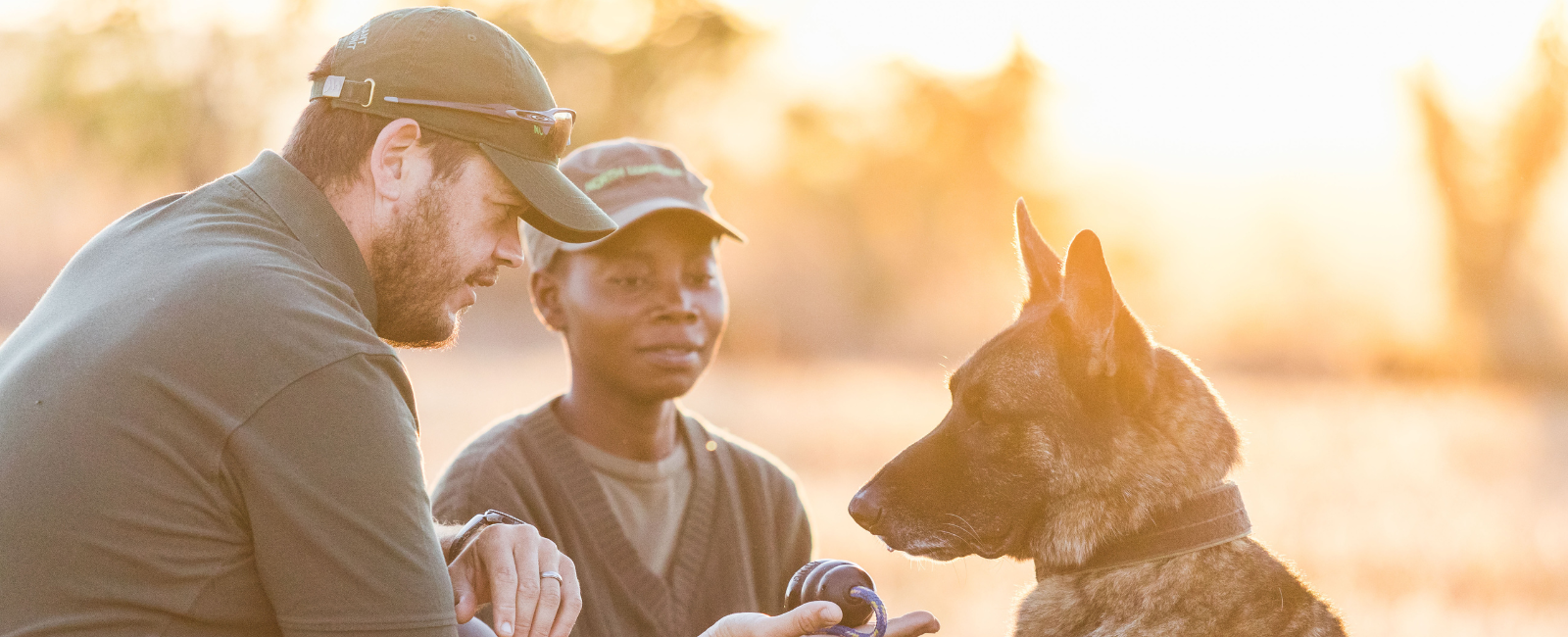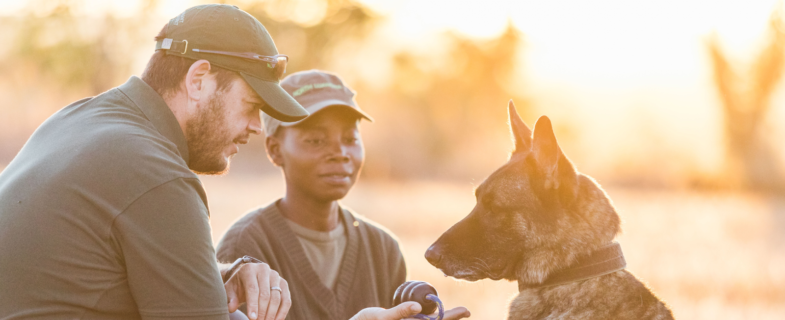 Anti-poaching Canine Units
Detection and tracking dogs are becoming increasingly important for anti-poaching units across Africa. Their proven effectiveness has led to the number of canine units rising, but many of these programmes work in isolation from each other. Programmes often have very few opportunities to share experience and knowledge. To address this challenge, in 2018 and 2019 we helped fund, coordinate and facilitate workshops in South Africa and Kenya, bringing canine teams and experts together. In addition, we support the operational costs of a number of canine units that are integral parts of our programme partners' anti-poaching efforts in Kenya, Zambia, Namibia and South Africa.
The problem
Poaching and wildlife trafficking are lucrative forms of transnational organised crime, decimating populations of rhinos and other wildlife across Africa. To counter these threats, we need to deploy a range of strategies to make sure rhinos stay safe. Canine units have proven to be a highly effective tool in supporting anti-poaching efforts, owing to their excellent sense of smell, being able to track down poachers and detect illegally trafficked rhino horn, giving teams the ability to stop poachers and eventually charge those involved. Happily, working dogs are not corruptible: if they find an illegal substance, they will indicate so, regardless of who the suspect is.
What did this workshop include?
During the two workshops held so far, we have addressed a number of key issues, including:
canine basics; starting and maintaining healthy dog squads, developing kennels, nutrition and veterinary care
handler and dog training; improving skills for handlers and their detection and / or tracking dogs, and motivating handlers to do their jobs well despite the inevitable challenges
using canine evidence; making the best use of evidence found by canine units to assist law enforcement and help put criminals behind bars
"Dogs are very friendly and a pleasure to work with. They can help us track down and detect bad people, and therefore are an incredibly important tool in our efforts, and we work together as one unit to be even more effective. We are training and improving every day, and are grateful for being able to attend the Working Dog Workshop again this year in Nairobi; this is a great opportunity to network, and gain more skills, especially in tracking and law enforcement work."
Joseph Piroris, Canine Unit Commander, Lewa Wildlife Conservancy
Our work
We support the work of canine units across Africa by lending our logistical and facilitation skills and expertise with organising annual working dog workshops, which bring together K9 programmes to share knowledge, gain experience and learn techniques to combat rhino poaching and wildlife crime. In supporting this workshop and canine units across the field programmes we support, we are empowering and developing anti-poaching units across the continent.
Previously, through a grant from United States Fish and Wildlife Service, we have also provided support with technical expertise via the role of a Regional Canine Coordinator based in South Africa.
Protecting Rhinos
Reducing Illegal Horn Trade
Involving Communities
Bringing Experts Together