Established in 1980, until 2012 Ol Jogi Conservancy had not lost a single rhino to poachers. Impressive security measures, including the first dedicated canine tracker unit on a Kenyan conservancy, highly trained anti-poaching teams, as well as a strong relationship with local communities all contributed to this success. However, even these measures were not enough when the most recent poaching crisis reached its peak and, unfortunately, between 2012 and 2015, several of its rhinos were poached.
Fortunately, no rhinos have been lost on Ol Jogi since then. However, that three-year period highlighted just how important maintaining and improving the effectiveness of security is to minimise the chances of such incidents happening again.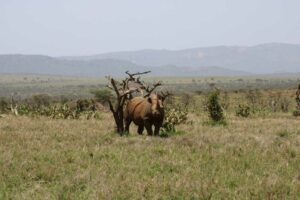 With rhino horn being so valuable, there is often a temptation for people working at a Conservancy, including rangers, to become involved in poaching. Large sums of money could be offered for a rhino's location or details about security protocols. In fact, many poaching incidents have been enabled by compromised insiders selling information to would-be poachers.
Therefore, it is paramount that rangers are kept as motivated, comfortable and safe as possible whilst they protect and monitor endangered animals. Not only for the well-being of the rhinos and other wildlife but for their own well-being. Some of the ways that can contribute to this can be as simple as ensuring rangers have appropriate equipment, sufficient and appetising food, and a comfortable place to rest and relax while they're off duty.
This is exactly what a recent grant of $15,000 by our partners at ForRangers sought to achieve. Thanks to your donations and fundraising, this funding provided much-needed equipment and enabled improvements to ranger accommodation at Ol Jogi. This included:
12 pairs of Altberg boots for Ol Jogi's security personnel. These new boots have helped the rangers to carry out their duties in greater comfort, enabling them to cover greater distances more efficiently when on patrol
10 body cameras to aid law enforcement operations. Whilst the cameras are yet to be deployed in the field, it is expected that the bodycams will help to ensure due diligence is carried out to protect the Conservancy and its rangers from being wrongfully accused of misconduct, as well as protect criminal suspects
Upgrade the Kilo 9 ranger field accommodation with comfortable lodging, sustainable power, sustainable water harvesting, and sustainable ablutions
Provide a varied range of ration packs for 103 rangers for four months
Security Manager at Ol Jogi, Sebastian Novah, shared:
"Ration packs provided to the rangers included rice, beans, corned beef, tinned pineapple, tea leaves, sugar, tinned pineapple, army biscuits and Taifa Unga. These packs have sustained the ranger teams, helping to keep them strong and fit but have also contained something tasty for them after long days in the field."
Alex Meshami, one of the rhino monitors stationed at Kilo 9's newly refurbished ranger house, commented:
"The upgraded ranger house at Kilo 9 is a lot more comfortable than the old house. We can get good rest and we feel much warmer in the evenings. Thank you ForRangers."
Against the odds, and thanks to generous support from many individuals, Ol Jogi's team has been very successful at protecting and growing its rhino population. In fact, rhinos born in the Conservancy have been used to bolster populations in other areas. Excitingly, the Conservancy still has room for many more rhinos to come.
Of course, this is thanks to the many dedicated people at Ol Jogi that safeguard rhinos and other endangered species every day. Our huge thanks to them. And, thank you to every supporter that's given generously to ForRangers' appeals, making every single one of these improvements on Ol Jogi possible. With the drought in Northern Kenya ongoing and the threat to rhinos from poaching gangs still very much a concern, your contributions to projects such as this are needed more than ever.
Throughout July, we're raising funds with ForRangers to provide life insurance so that rangers, and their families, have more support. Find out more about our appeal here.
Thank you.