Happy World Veterinary Day! As people that love animals, we all know the value of vets. When a much-loved pet isn't well, vets are often the first point of call for care and support. Of course, when it comes to rhinos and other wild animals, vets have to work with quite a few unique challenges. This World Veterinary Day (30 April 2022), we wanted to find out a little bit more about this work, so we sat down with Ellie Milnes, a wildlife vet that has worked with wild and domestic animals around the world, and specifically, is working on a black rhino research project, in Kenya. 
What inspired you to become a wildlife vet?
It's been a long road, and I've been very fortunate with brilliant experiences. Of course, I loved watching David Attenborough documentaries growing up and therefore I wanted to be a zoologist working to save wildlife. But I realised that would probably mean I needed to focus on one species. That's amazing, but I couldn't pick one! When I realised that it was the wildlife vets that would come in to help animals in trouble, or perhaps support research, I realised it was a great hands-on, multi-species role that I would love.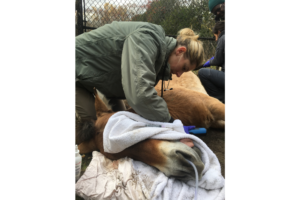 I studied at the University of Cambridge veterinary school, graduating in 2010. I was fortunate to go to Namibia during my degree, working with people carrying out rhino operations. That was an incredible experience and showed me how great rhinos are! After my degree I worked in several mixed and large animal practices in the UK and New Zealand for five years.
But, knowing my passion was for wildlife, I went to Toronto Zoo in Canada to complete three years of postgraduate training in zoo and wildlife medicine. After this, I undertook a Master's degree at the University of Edinburgh, looking at ways to improve anaesthetic safety for Critically Endangered Przewalski's horses (found in Mongolia).
More recently I've worked for the Smithsonian Conservation Biology Institute at Ol Jogi Conservancy in Kenya (our upcoming research is funded by National Geographic – I'm a 2020 National Geographic Explorer!) and at the Royal Zoological Society of Scotland Highland Wildlife Park on the Saving Wildcats  .
I'm currently working as a vet for the Zoological Society of London at London Zoo and Whipsnade Zoo and planning to begin my PhD focusing on rhino anaesthesia in 2023.
That's a lot of experience! It must be so difficult to work with so many different species and understand how to treat and care for each one. How do you know what to do each day?
As a zoo vet it can sometimes feel like you're a jack of all trades, a master of none. But it's such a privilege and I'm so lucky to work with the animals that I do. It's my dream job! Just this morning, we anaesthetised a tamandua (a type of anteater) for a health check, took a skin biopsy from a pygmy hippo, spoke about a disease that's causing problems for some endangered birds, and even had to think about the kindest and most humane way to euthanise insects. Every day is different. 
But we're trained as scientists. We have standard processes that we go through to determine the issues and find a solution for animal health problems. It can certainly be challenging, but we try to approach things objectively each time. The great thing about this field is that people are so friendly and helpful. Building a network is key, and when I have questions or need advice, it's great to call someone else and talk things through. 
So, what interests you most about rhinos?
Rhinos are just brilliant. They're amazing, prehistoric, beautiful animals. From a personal perspective, I guess I never meant to set out working with rhinos but working with black rhinos in Namibia during my degree really gave me a new-found love for them. We were translocating black rhinos in Etosha National Park, and the experience showed me just how tough they are.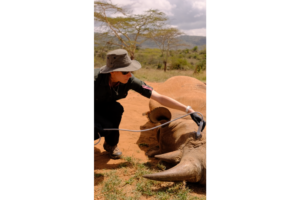 Rhinos do have their own unique health issues, particularly in zoos. For example, lameness and overgrown toenails can be a problem, and there's iron storage disease, which often affects black rhinos in zoos as we don't have the variety of browse that they might find naturally. Dealing with these things made me want to understand the challenges rhinos face in their natural environment. One of the health issues that I encountered when I was in Kenya was that, since 2010, at least six Eastern black rhino calves in the Laikipia black rhino population have been born with severe cataracts. This is really unusual and it's a significant number of calves for the population. It got me thinking about why this has happened and how we can help. We think it might be a genetic mutation, as the population has grown from a small number of individuals, after the population plummeted due to poaching. 
We're planning on doing ophthalmic exams on some of Laikipia's black rhinos soon, using an ultrasound machine to find out if any other rhinos have eye issues. We'll also be working with a geneticist to discover if there is a genetic basis for this problem. This could help us determine future conservation interventions, keeping animals healthier and ensuring that the population grows.
That's so interesting. Are there any other rhino populations where similar issues have been found in?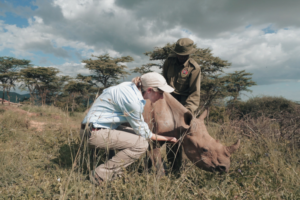 There is so much we don't know about rhino health, especially free-ranging populations. This issue seems to be a specific problem for Eastern black rhinos in Laikipia. But perhaps we just haven't been able to spot it in other places due to monitoring intensity. Rangers at Ol Jogi Conservancy see every rhino almost every day, so they spot the issues immediately and sometimes intervene. In other areas, perhaps without enough infrastructure to support large ranger teams, or because of extreme terrain, it's not as easy to see rhinos and monitor their health. There's so much we don't understand, and of course we need to secure enough funding for projects that help us learn more. 
Another project I'm interested in is the effects of specific drugs used during rhino immobilisation procedures. White rhinos, for example, are extremely sensitive to what we call ultra-potent opioids, which we need to use as an anaesthetic when we have to translocate, dehorn or ear notch rhinos. Their blood oxygen level has been seen to drop to around 45%, when it should be 95-100%. Thankfully, they're tough animals and somehow cope with this drastic change during procedures. But, I'm really interested in finding ways to mitigate the issue, and if there are any long-term impacts of using these drugs, especially in rhinos that need to be immobilised regularly. This is what I'll be looking into for my PhD. 
Your work is so fascinating. Ok, final question: what's one bit of advice that you would have for someone hoping to become a wildlife vet?
It'll probably be a long road, you've got to be prepared to take every opportunity and do as much as you can to learn, but it won't be easy. You'll be given a lot of responsibility. There are often good and bad days and sometimes – sadly – an animal might die from a decision you've made. 
The best advice that I've ever been given is to be resilient, to look back and think about what's happened, and to identify what worked really well, and what you could improve next time. 
If you have the passion for it, and you're ready to work hard, it's one of the most incredible, rewarding jobs in the world.