Indonesia is home to two new Javan rhinos! Captured by camera traps hidden within the forest of Ujung Kulon National Park, new images and videos recently shared by the Ministry of Environment and Forestry share the exciting news of the arrival of two new Javan rhino calves.
With fewer than 80 Javan rhinos left in the world, every single birth is of huge importance. The latest news is another step forward for Javan rhino conservation.
All of the estimated 77 Javan rhinos live in one place, Ujung Kulon National Park (UKNP), and are protected and monitored by dedicated teams, working closely with National Park staff. Protection teams – named Rhino Protection Units (RPUs) – are made up of four highly trained people. RPUs spend weeks at a time patrolling UKNP and its coastal waters to support the conservation of rhinos and other endangered species. The importance of the RPUs cannot be underestimated.
The recovery of such a small and fragile rhino population can only happen when they have access to healthy and safe habitat. Daily patrols (which cover a total of approximately 10,000 km every year) mean that illegal activities can be addressed quickly and deterred in the future.
Currently, illegal fishing is one of the biggest challenges that RPUs face. The shoreline surrounding UKNP is an important place for Javan rhinos: they often venture to the edges of the Park to supplement their diet with salt. However, increased disturbance from illegal activity within coastal waters pushes rhinos away from the coast and potentially into more exposed areas.
In the first half of 2022, Marine RPU teams encountered 73 incidents of illegal fishing. Each time, fishermen were given verbal and written warnings and asked to leave the area.
With more Javan rhino calves born recently, the work of RPUs and other monitoring teams is more important than ever, not only for protecting these precious rhinos, but also for monitoring the population. Javan rhinos are notoriously difficult to spot, but thankfully, the RPUs are experts. Every time they come across any rhino signs, they stop to record as much information as possible.
Between January and June 2022, RPUs discovered more than 70 footprints, 20 wallows, 8 faeces, and 18 feeding sites within the UKNP. These signs, alongside 140 cameras placed in strategic positions around UKNP, have helped teams understand more about the behaviours of Javan rhinos. And, of course, keeping a close eye on the population has led to the great news of two new calves.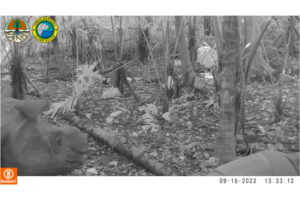 To support Javan rhinos in UKNP, work is currently underway to remove hectares of invasive Arenga palm that crowds out rhino food plants and restricts available habitat. In addition, RPUs are expanding their patrols into hard-to-reach areas, thanks to the construction of a new guard post along the park's southern coast.
We are very grateful to every RPU member for their dedication to the world's remaining Javan rhinos. And, of course, this work would not be possible without the support of the Government of Indonesia, UKNP Officials, AleRT, YABI and the International Rhino Foundation. A huge thank you to everyone that has donated towards Javan rhino conservation. The recent additions to the Javan rhino population not only demonstrate the impact of your support but also give us hope for the future.