Two years ago, most of us didn't know what 'lockdowns' meant. Now, we all wince at the word, knowing just how tough it is to remain in your own home for 90% of the day, 24/7. As difficult as they are (for many reasons), they do provide one benefit for rhino conservation: movement restrictions.
With parks closed, only essential travel allowed and curfews in force, it suddenly became much harder to get into a rhino reserve or conservancy to poach a rhino – let alone to get back out again without getting caught by rangers or being questioned by police on curfew patrols. And that's just the start. Trafficking horn out of the country also became much harder – flights were few and far between, and anyone travelling needed exceptional reasons to do so. For these reasons, as well as the great efforts of rangers who continued to protect rhinos, during the first six months of 2020 poaching in South Africa declined by 48%, compared to the same time the year before.
Unfortunately, as restrictions began to ease, the numbers started to rise. Worse still, they've continued to rise into the first six months of 2021. Compared to the first half of last year, 50% more rhinos have been poached in South Africa in 2021. Thankfully, this is still below what they were in 2019, but of course, every single rhino loss is one rhino too many, and it's devastating.
| | | |
| --- | --- | --- |
| Year |  Rhinos poached January – June | Rhinos poached July – December |
| 2018 | 386 | 383 |
| 2019 | 318 | 276 |
| 2020 | 166 | 228 |
| 2021 | 249 | N/A |
It's impossible to know how much these numbers would have differed if it wasn't for Covid-19. However, we do know that we can never be complacent when it comes to stopping rhino poaching. The downward trend since the high of 2014 (when poaching was at its peak in South Africa – 1,215 rhinos were killed) tells us that we're heading in the right direction. The unsettling bumps in the road demonstrate how much more there is to do.
Amongst the people doing everything they can to keep South Africa's rhinos safe are the rangers at Hluhluwe-iMfolozi Park (HiP), a 960 km2 reserve in Kwa-Zulu Natal Province, in the east of the country. The Park is home to black and white rhinos, and has suffered from intense poaching. At its peak, rangers were dealing with up to six incursions every single day. Like the rest of the country, poaching incursions initially fell during the earliest and strictest weeks of lockdown but have since escalated, with a spike in incidents during December 2020. With extended overtime and nightshifts, the team was on duty for an average of 20,000 hours each month. Without much of the funding that tourism has previously provided, your support has been vital.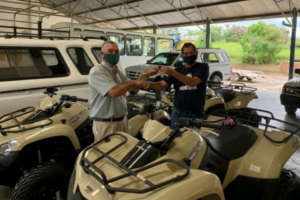 To assist with patrolling efforts, five new quadbikes were purchased, enabling rangers to monitor rhinos and ensure the integrity of the electric fence that surrounds HiP without using large, fuel-heavy vehicles. These bikes are not only saving time, but also improving incident response time, increasing the chances of rangers successfully apprehending poaching suspects.
Additionally, your donations have ensured that core, everyday maintenance work can continue so that facilities, vehicles and appliances remain in good working condition. This maintenance is crucial to provide an environment fit for the rangers' work; maintaining comfortable accommodation for rangers is critical to keeping morale high amongst the team.
Since April 2020, several solar panel installations at field camps have been overhauled, providing power for lights and charging points for phones while rangers are staying away from their base. Section Rangers have also been able to maintain vehicles by purchasing new tyres, repair water connections at outposts and purchase building material to fix rangers' living facilities.
Dirk Swart is a Section Ranger at HiP,
"I have been a Section Ranger in this Park since 2006 and during this entire period Save the Rhino and its donors have been supporting us, even before rhino poaching was ever an issue. We often go through difficult times and turmoil, but at the end of the day, we get through them.
Presently, due to Covid-19, loss of jobs and revenue, Ezemvelo KZN Wildlife [the management organisation responsible for the Park] is struggling to find funding to pay for staff, let alone operational costs. Save the Rhino and its donors, including Zoo de la Boissière du Doré, have always assisted us with maintaining our Park and very often with mundane tasks and 'unsexy' activities such as fixing broken toilets, showers, pumps and generators. Your continued support on the ground enables staff to do their work effectively, increases morale and gets results.
I would personally like to thank you very much for your very generous support."
Lockdowns have been extremely tough for all of us, and your donations have been making life better for Hluhluwe-iMfolozi's rangers throughout this extraordinary and difficult time. Thank you all so much for supporting Hluhluwe-iMfolozi Park.