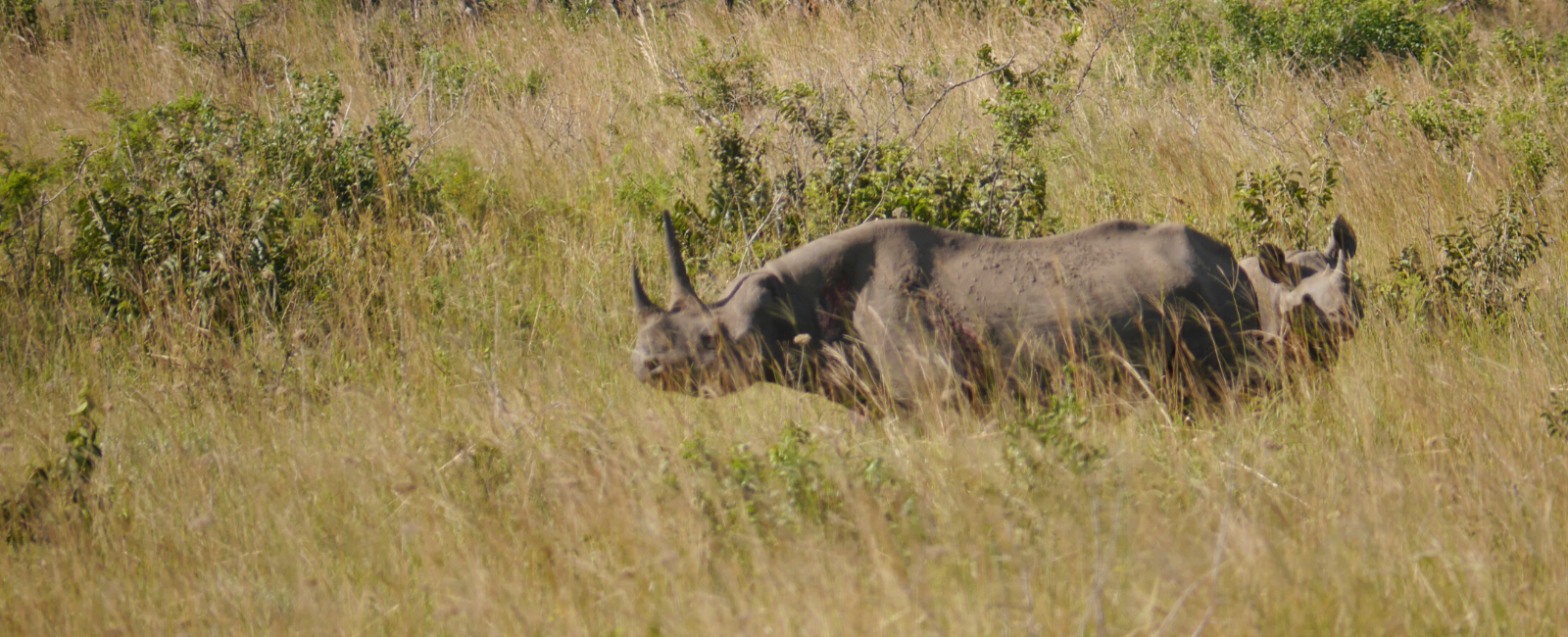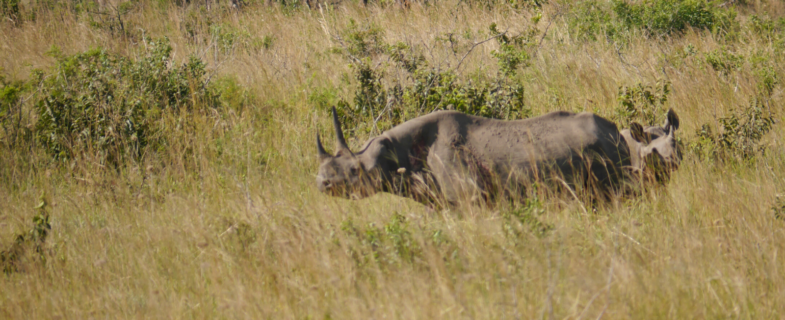 South Africa: Hluhluwe-iMfolozi Park
Hluhluwe-iMfolozi Park (HiP) is the oldest proclaimed park in Africa, covering 960km2, and home to black and white rhinos.
The Park is made up of two Game Reserves, which, together, make up one ecosystem: Hluhluwe Game Reserve in the North, and iMfolozi Game Reserve in the South. HiP is renowned worldwide for being the historical home of the Southern white rhino, following the successful 'Operation Rhino' efforts in the 1950s to bring back white rhino from the brink of extinction.
Given the Park's relative proximity to Kruger National Park, the poaching pressure at HiP has been relentless since the current poaching crisis began in 2008.
The problem
HiP is located in the South African Province of Kwa-Zulu Natal, which has the greatest density of rhinos in the country. Hluhluwe-iMfolozi Park is home to an incredibly important population of both white and black rhino.
As elsewhere throughout Africa, Hluhluwe-iMfolozi Park's rhinos' biggest threat is from poaching for the international illegal trade in rhino horn. While poaching pressure remains intense in Kruger National Park, which is relatively close to HiP, there has been a shift towards other provinces, with the rhinos at Hluhluwe-iMfolozi Park in particular suffering.
The poaching intensity has been truly high. Rangers respond to incidents every day, sometimes up to three or four times a day. During this time, aviation support, canine units, and field ranger teams having been working extremely hard under challenging circumstances to carry out anti-poaching and monitoring activities.
How is Hluhluwe-iMfolozi Park tackling this problem?
Due to the intensity of poaching in the Park, field rangers have been stepping up their monitoring and patrolling efforts. This has included regular foot and vehicle patrols, as well as horse and aerial assisted surveillance. Specialist canine teams have also been helping to track and deter suspected poachers. It is clear that without the dedication and hard work of the staff in Hluhluwe-iMfolozi Park, the number of rhinos being poached would be much higher.
As well as being the historical home of the Southern white rhino, the Park plays an important role in growing South Africa's black rhino population, with black rhinos translocated from the Park to other areas, increasing the habitats available to this Critically Endangered species.
"Our Field Rangers are tasked with working at night under all conditions and are under immense pressure and stress. Without their efforts, rhino poaching would be far worse. Their dedication and hard work are so important and should never be underestimated — or taken for granted". Dirk Swart, Section Ranger at Hluhluwe-iMfolozi Park.
Photos from Hluhluwe-Imfolozi Park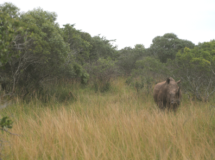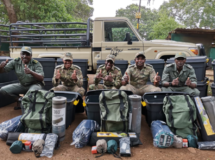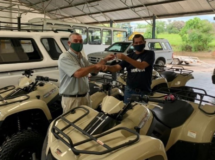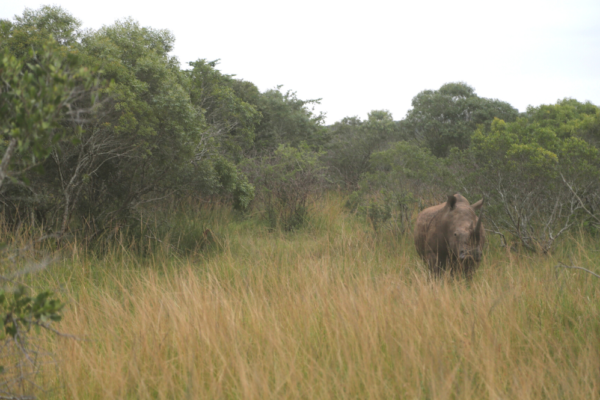 A white rhino at HiP.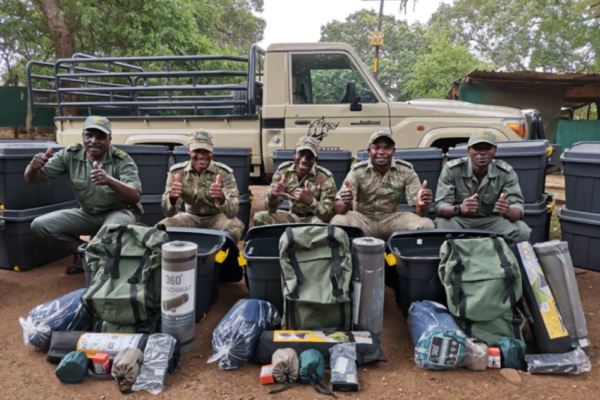 Rangers receiving new camping kit and equipment for long patrols.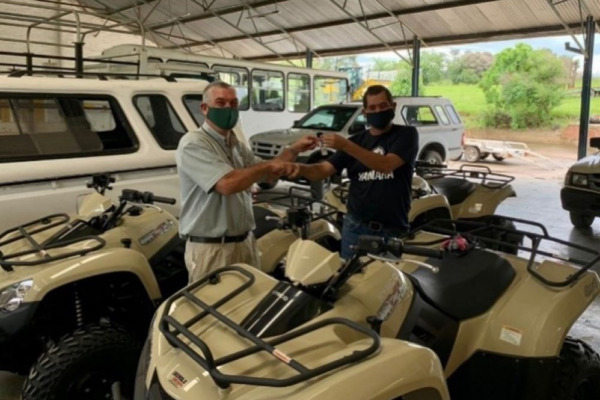 The HiP team receiving a quad bike to support fence patrols.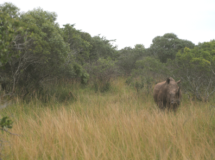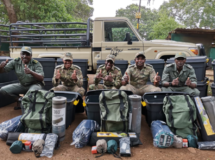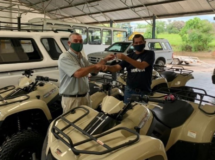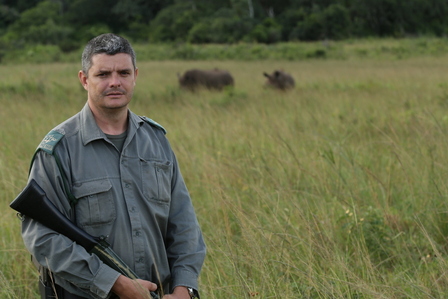 "With the support received from Save the Rhino International and its donors, we can effectively equip staff with the correct tactical gear, make sure they have comfortable accommodation to come home to, have good warm clothing for the long evenings and other such requirements. With high staff morale, we stand a much better chance of succeeding. Thank you to all those who contribute and support our staff".
Dirk Swart, Section Ranger, Hluhluwe-iMfolozi Park
Our work
Donations help us to provide funding for the vital equipment that's needed at HiP. This includes kits for ranger teams undertaking patrols by foot, vehicle and on horseback. Equipment such as camping equipment, monitoring and field equipment, and vehicle tyres are often underfunded, yet they're vital to ensuring rangers can work safely and effectively each day. Most recently, your support enabled our grant to purchase a new vehicle for HiP. Vehicles are a lifeline for teams in the field, often meaning the difference between success and failure, or between life and death.
We have also supported aerial surveillance and improvements to ranger accommodation and facilities.
2014 appeal - Help a Ranger, Save a Rhino
Protecting Rhinos
Reducing Illegal Horn Trade
Involving Communities
Bringing Experts Together