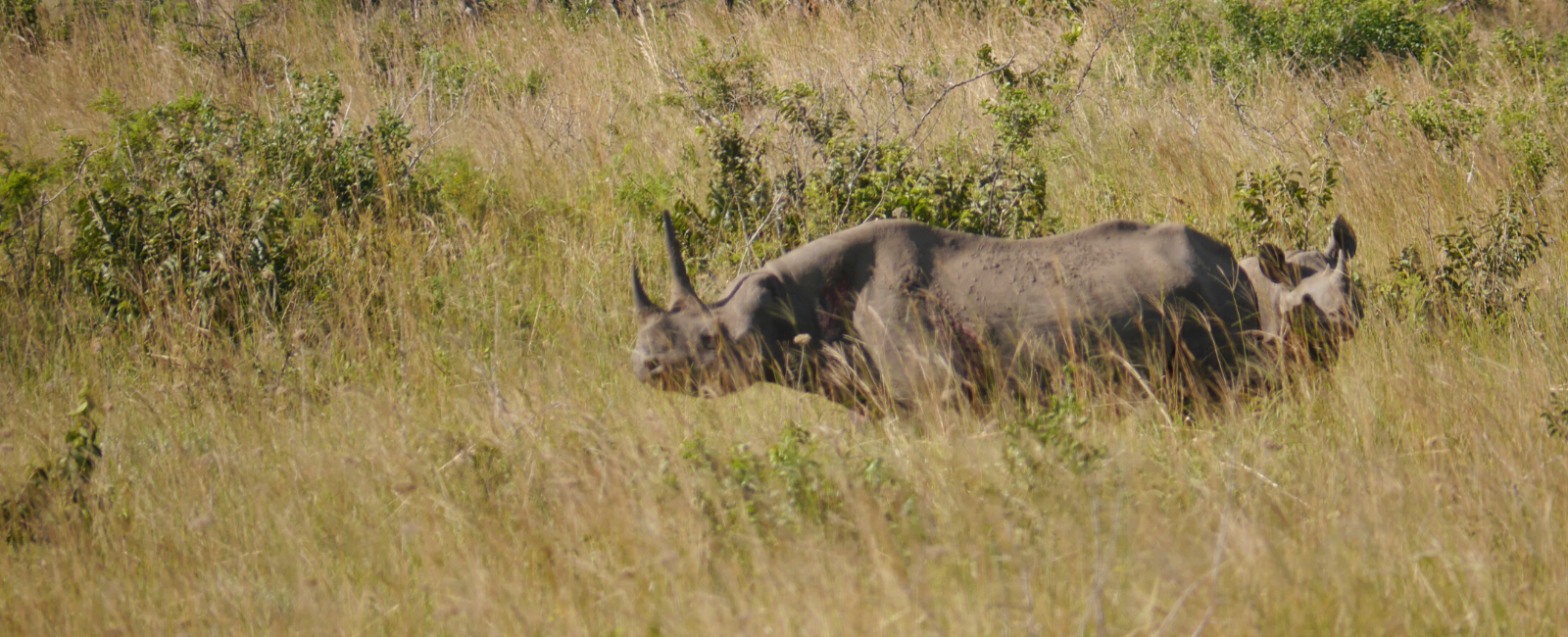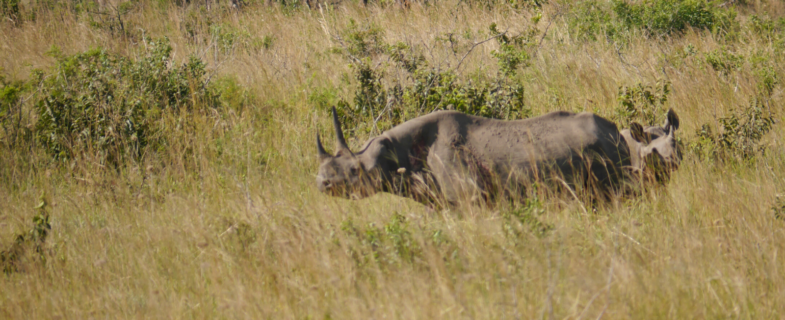 South Africa: Hluhluwe-iMfolozi Park
The land on which the Hluhluwe-iMfolozi Park (HiP) now lies has a rich history. During the 19th Century, much of the wildlife within KwaZulu-Natal Province was killed by intense unregulated hunting, which targeted the landscape's wildlife for ivory, skins, and rhino horn. Elephants and lions were extirpated completely from the area and there were concerns that the Southern white rhino was globally extinct until 1894, when ~50 rhinos were found in what is now the iMfolozi Game Reserve. Following public outcry, these rhinos were protected by the establishment of Africa's first proclaimed reserve the following year.
After this designation, the population grew until there were, amazingly, fears that there were too many for the habitat available. Significant concerns were raised about overgrazing and the impact of a single disease outbreak, such as anthrax, which could wipe out the entire population. This led to the initiation of 'Operation Rhino', a project propelled to fame by books written by the Reserve's then-resident Game Warden, Dr Ian Player. Collaborating with other individuals such as English veterinarian, Dr Anthony Hoorthorn, translocations to establish new populations, such as inside the vast Kruger National Park, began.
By 2010, thanks to significant political will and private sector collaboration, the Southern white rhino population had recovered to more than 20,000 across Africa. Descendants from the last 50 or so left in iMfolozi had now established populations in Zimbabwe, Namibia, Botswana and Kenya. As a result, Operation Rhino is regarded as one of Africa's greatest conservation success stories.
Furthermore, the corridor linking the iMfolozi Game Reserve in the south with the Hluhluwe Game Reserve in the north was opened in 1989, creating one larger contiguous ecosystem, known as Hluhluwe-iMfolozi Park. Many species that had gone locally extinct have since been reintroduced. Today, HiP is home to the Big Five, as well as cheetahs and African wild dogs, and has one of the densest populations of black and white rhinos on the continent.
The problem
Unfortunately, HiP's success has put the Park's endangered species under threat. Since the start of the current poaching crisis in 2008, rhino poaching in South Africa has skyrocketed. Tragically, much of the progress achieved during the last century is at risk of being undone. The latest population estimates (as of 31 December 2021) indicate that the number of Southern white rhinos within African rhino range states has dropped to 15,942, with the largest population, that in Kruger National Park, falling by 70% during the past decade alone. With Kruger's rhino population so depleted, multiple poaching syndicates have turned their attention to KwaZulu-Natal. From January to December 2022 alone, poachers killed 244 rhinos in the Province, compared to 101 just one year earlier. The majority were killed inside HiP.
At 960km², HiP is dwarfed by Kruger, but it remains incredibly difficult to protect. Surrounded by communities and human development, the Park's road access and relative smaller size make it easy for poachers to enter, kill a rhino, remove its horn and be gone, within hours.
How is Hluhluwe-iMfolozi Park tackling this problem?
Due to the intensity of poaching, field rangers have been stepping up their monitoring and patrolling efforts. This has included regular foot and vehicle patrols, as well as aerial-assisted surveillance and horse-back patrols. Specialist canine teams have also been helping to track and deter suspected poachers. Without the dedication and hard work of the staff in HiP, the number of rhinos being poached would be much higher.
"Our Field Rangers are tasked with working at night under all conditions and are under immense pressure and stress. Without their efforts, rhino poaching would be far worse. Their dedication and hard work are so important and should never be underestimated — or taken for granted". Dirk Swart, Section Ranger at Hluhluwe-iMfolozi Park.
A fixed-wing aircraft has been one asset that has proved effective. It serves primarily as a law-enforcement surveillance aircraft that monitors the Park and surrounding areas. During patrols, the aircraft can rapidly communicate with and direct staff on the ground, allowing the team to react quickly to illegal incursions, and detect rhino carcasses more quickly than foot patrols. In the iMfolozi Section for example, the aircraft detected a fresh carcass and rapidly forwarded its location. A scent from the crime scene was traced, and the aircraft assisted a canine team that led the rangers to the suspects' houses, where arrests were later made.
Other important tasks undertaken by the aircraft include fence-line checks to prevent animal escapes, as well as biological management work such as checking water levels and black rhino monitoring. Using the aircraft, more than 30 black rhinos can be identified in one five-hour-long patrol. This detection rate is more than most sections can achieve in one month of ground tracking.
Keeping tabs on the Park's more threatened black rhinos is essential to ensure that the population remains healthy and continues to grow. The success of this Park's black rhino population has meant that surplus individuals have been translocated from this Park to other areas, increasing the amount of habitat available for this Critically Endangered species.
Photos from Hluhluwe-Imfolozi Park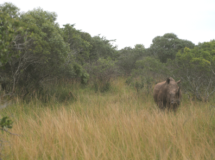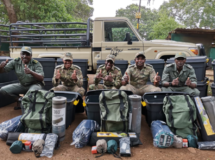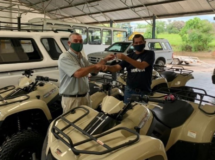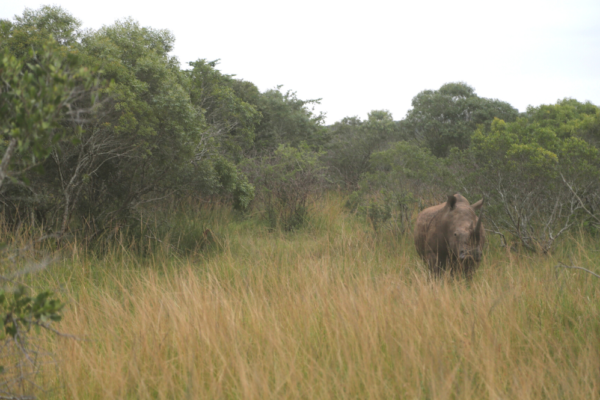 A white rhino at HiP.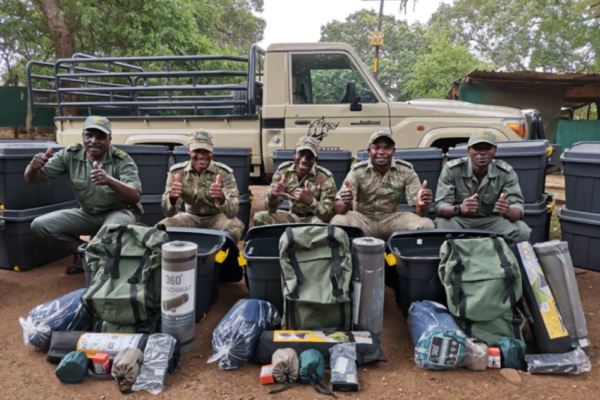 Rangers receiving new camping kit and equipment for long patrols.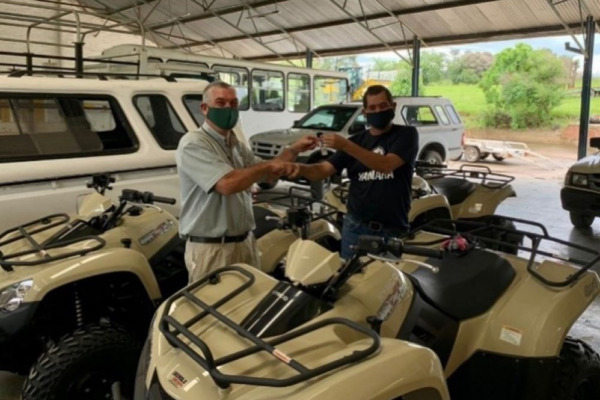 The HiP team receiving a quad bike to support fence patrols.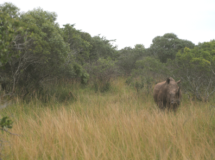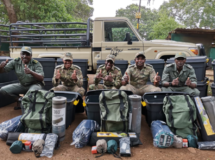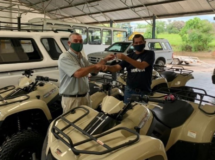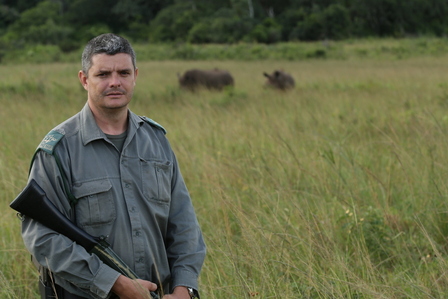 "With the support received from Save the Rhino International and its donors, we can effectively equip staff with the correct tactical gear, make sure they have comfortable accommodation to come home to, have good warm clothing for the long evenings and other such requirements. With high staff morale, we stand a much better chance of succeeding. Thank you to all those who contribute and support our staff".
Dirk Swart, Section Ranger, Hluhluwe-iMfolozi Park
Our work
Your donations help to provide funding for salaries, vital equipment, veterinary supplies and facilities that HiP and its staff desperately need. These include kits for ranger teams undertaking patrols by foot, vehicle and on horseback as well as improvements to the rangers' accommodation. Ranger rations and equipment such as camping, monitoring and field equipment are often underfunded, yet they are crucial to ensure rangers can work safely and effectively each day. Vehicle tyres, although seemingly a basic item, are probably one of the most important on-the-ground items required and, to ensure the efficiency of law-enforcement staff on the Park's rough terrain, gravel roads and management tracks, vehicles constantly require new ones.
Some of our most recent grants have been allocated towards the ongoing maintenance and operation of aerial surveillance, purchase of new vehicles and repairs of existing ones, as well as the development and deployment of canine units. All of which are essential deterrents to poaching gangs. As has been the case for many of our partners, the rising cost of fuel, in combination with the increased necessity for more frequent aerial surveillance to fight poaching incursions, has made these activities increasingly expensive and your support is more vital than ever.
2014 appeal - Help a Ranger, Save a Rhino
Protecting Rhinos
Reducing Illegal Horn Trade
Involving Communities
Bringing Experts Together