In less than six years, the ForRangers initiative has donated more than £2 million for ranger equipment and kit. Not bad for an initiative that started on a whim.
The story goes that, after a training run, Sam Taylor jokingly suggested to Pete Newland that they should do the Marathon des Sables, a 250km ultra-marathon billed as "The toughest footrace on earth". To Sam's surprise, Pete said yes and suggested that they not only take on the challenge but raise funds for rangers while they were doing so. A few days later, Pete signed everyone up, and ForRangers was born.
Since day one, ForRangers' aim has been to improve the welfare of the men and women who protect Africa's most endangered species. By raising funds, ForRangers helps to purchase essential and everyday equipment, such as boots, uniforms and rations, whilst also providing ranger training and refurbishing (and sometimes building from scratch) ranger accommodation and recreational areas.
As ForRangers expands, so do Sam and Pete's ambitions. Together, we've set up grants to match those ambitions, providing even more support for rangers.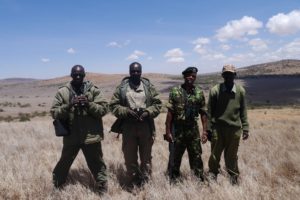 Supporting rangers and their families
For the third year running, we've purchased a life insurance policy for Kenyan rangers, paying for hospital treatment and supporting the families of rangers injured or killed in the line of duty. In June 2020, while responding – at the community's request – to livestock theft, one ranger was killed and another injured. The policy will support the injured ranger while he is out of work, and will provide for the deceased's widow and children.
Protecting rangers from the hazards of wildlife
Rangers are at risk of snakebites while on patrol. With the support of ForRangers, 46 vials of anti-venom were purchased by the James Ashe Anti-Venom Trust, an amount that could save the lives of 10-15 people.
In 2012, Moses Kasaine, a ranch herder on Borana Conservancy in Kenya, was bitten by a puff adder. After months in hospital and years of suffering in pain, the difficult decision was made to amputate Moses' foot above the ankle. To support Moses, ForRangers purchased a prosthetic limb and funded physiotherapy to help him continue in his day-to-day life. He is now back at Borana, working in the radio operations room.
Providing access to medical care
Having access to top-quality healthcare is critical to the wellbeing of rangers, both in and out of the workplace. Nanyuki Cottage Hospital is the centre of medical excellence for the whole of Northern Kenya, and has treated hundreds of rangers injured in the field during the last 10 years. The Hospital was in dire need of developing its radiology department to better diagnose injuries and provide specialist healthcare. Thanks to donations and support from ForRangers, this will now be possible.
Further donations to ForRangers have also enabled the construction of a health clinic in Loisaba Conservancy, providing vital infrastructure to address the medical needs of rangers and the wider community.
Improving ranger training
One of ForRangers' priorities is to help rangers work at the highest level possible; physical and professional training is key. In 2020, ForRangers established a fitness regime and new equipment for rangers at four conservancies within Kenya's Laikipia County: Lewa, Borana, Ol Jogi and Ol Pejeta.
In Garamba National Park in the Democratic Republic of Congo, 235 pairs of trail-running shoes were sent to the ranger teams, improving the rangers' ability to build their fitness and health, not only to boost their effectiveness at work but also their wellbeing and mental health.
Despite the challenges that Covid-19 has brought, the above shows the impact that ForRangers is having. We hope to continue accomplishing more.
---
ForRangers first partnered with Save the Rhino in 2017. Since then, ForRangers has supported 30 conversation programmes in 14 African countries.
From July 2019 to June 2020, a total of £639,376 was sent to conservation organisations in Africa, thanks to funds raised by Sam and Pete, their supporters and the For Rangers Ultra. All of it went towards improving the welfare of wildlife rangers and monitors. The majority of funds went to Kenyan conservancies, with other field programmes in the Democratic Republic of Congo, Namibia, Nigeria and Zambia also benefitting.
---
A version of this article was originally printed in our annual supporter magazine, The Horn.