In any team, there's always someone that knows exactly what's happening across the whole team. They're the first point of call when you have a question: the person who can tell you when, where and how everything is. If you were to meet Rebecca, you would get the sense that she is that person.
Rebecca is a Radio Operator and one of only four women working in the security team at Ol Pejeta Conservancy in Kenya. From 7 am until 7 pm, Rebecca is stationed next to her radio in the operations room, talking to the rangers, guides and wildlife monitors that are dotted around the 90,000-acre wildlife-rich reserve. Her job every day is to coordinate field communications, making sure that ranger locations are recorded, wildlife sightings are logged, and all operations run smoothly.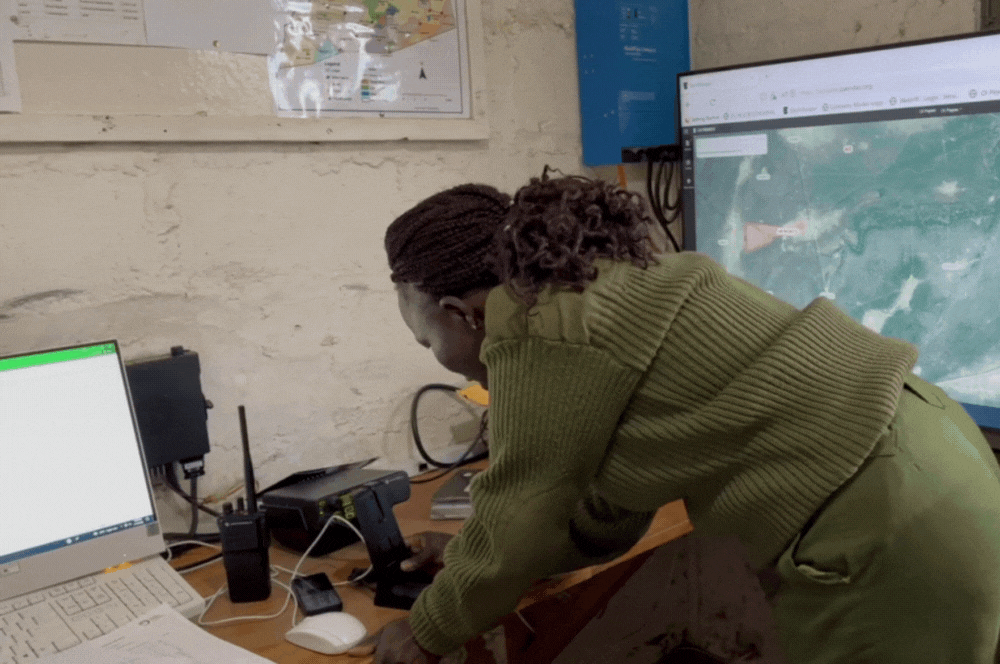 As great as Rebecca is at her job – and I'm reliably informed that she is – it's her passion and pride that's most obvious. With every word, her smile beams. It's contagious.
Rebecca's love for wildlife began as a child. In the village where she grew up, she would enjoy being outside and seeing incredible animals. Since she was young, she knew she wanted to work in wildlife conservation. 
"Wildlife is my passion. I love it. That's why I'm here. This is my dream job and I'll always do it."
As one of the Radio Operators, Rebecca not only records ranger deployment and supports field teams, but she also logs all rhino sightings. Her spreadsheet is labelled with columns marking when and where a rhino was seen, its behaviour, and if it was with any other rhinos. This diligent data recording helps the team at Ol Pejeta keep track of all rhinos on the Conservancy, monitoring their overall health and of course, confirming their safety.
Thanks to the daily patrols and extensive security measures in place, there have been no rhinos poached at Ol Pejeta for five years. Yet, this doesn't mean there's time to relax. And that's why Rebecca's work is essential. Accurately recording information helps to identify potential gaps. And having someone that knows exactly what's going on and where, at every moment, is crucial, ensuring teams can react quickly if an incident does occur.
Rebecca's job isn't easy. But of course, it's driven by her passion to save the iconic animals, including black and white rhinos, that have a home at Ol Pejeta.
Our current appeal aims to make Rebecca's and other people's jobs a little easier, by relieving one aspect of the stress that comes with working in rhino security. Alongside ForRangers, we're raising funds to provide vital insurance that will support rangers and their families, if they were to be injured, or killed, whilst at work. Please help us raise more by donating today. Insurance for a ranger for one year costs £37: donating just £3 a month will make a huge difference.
Thank you.