Douglas Adams Memorial Lecture 2022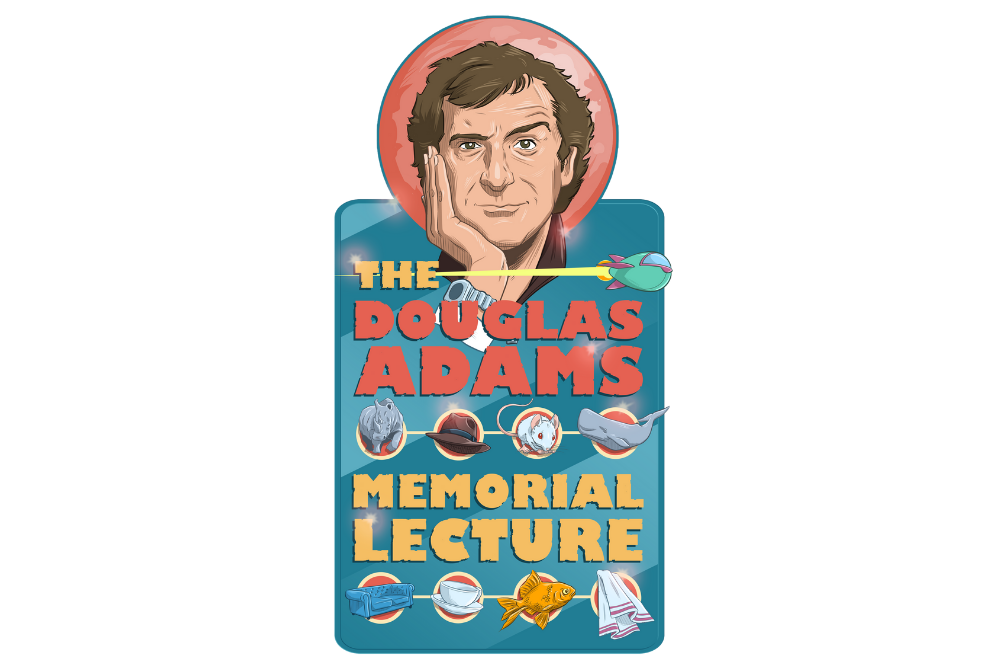 About the event
We invite you to celebrate the unique talent of Douglas Adams. Join us (and many other Douglas fans!) to commemorate Douglas' conservation exploits and truly remarkable books, including Last Chance to See, co-written by Mark Carwardine
Douglas was a founder patron of our charity. He once joined us for a climb up Mount Kilimanjaro in a rhino costume and even writes about it in The Salmon of Doubt. This year would have been Douglas' 70th birthday, and we're celebrating the best way we know; a live event with talks from speakers that we're sure Douglas would have loved. This year's lecture will be given by Professor E.J. Milner-Gulland from the University of Oxford, and the event will be hosted by comedian, podcaster and Douglas Adams fan, Rachel Wheeley. 
Join us at 19:00 (GMT+1) on Thursday 26 May 2022 at the Royal Geographic Society in London, or online in your own homes, to hear incredible speakers and honour Douglas.
Tickets for the event in London are now on sale. Buy your tickets here.
Tickets for the online event are now on sale. Buy your tickets here.
Limited edition Douglas Adams Merchandise are now on sale. Buy your merchandise here.
A history of Douglas and this event:
After Douglas died in 2001, we began working alongside his family to set up the Douglas Adams Memorial Lecture; an event with several speakers, each focusing on a topic that Douglas was interested in, such as science, exploration, conservation and comedy.
The lecture brings Douglas' fans together, shares insights into many fascinating topics with brilliant speakers, and raises vital funds for rhino conservation. In recent years we've been privileged to hear lectures from Alice Roberts, Brian Cox, Neil Gaiman and Baroness Susan Greenfield.
After a hiatus in 2016, the event was resurrected with a digital lecture in 2021. We're excited to bring you a hybrid event this year, with space for people to attend in person and online, and celebrate what would have been Douglas Adam's 70th birthday year.
Archive and Photo Exhibition:
Speakers:
E.J. Milner-Gulland
E.J. Milner-Gulland is a Tasso Leventis Professor of Biodiversity at the University of Oxford and Director, Interdisciplinary Centre for Conservation Science (ICCS). Previously she was a Professor of Conservation Science at Imperial College London, and she has also held lectureships in Resource Economics and Mathematical Ecology. Her PhD, at Imperial College London, was on the wildlife trade, with a focus on ivory, rhino horn and saiga antelopes. Her research group, the Interdisciplinary Centre for Conservation Science, undertakes a wide range of research, outreach and engagement projects, on five continents and in both marine and terrestrial settings. These include developing and applying methods for understanding, predicting, and influencing human behaviour in the context of local resource use in developing countries, and working with businesses to improve their environmental and social sustainability. Learn more about E.J.: ICCS profile, Twitter profile
Dr Fay Clark
Dr Fay Clark is a Zoologist and experimental psychologist based in Bristol and Cambridge, currently working as Research Fellow at Anglia Ruskin University. Over the past 20 years, she has worked with myriad wildlife species across the world. Fay develops specialized puzzles to help captive animals learn survival skills and improve their welfare. She is an experienced 'dolphinologist' and can attest to how dolphins have an incredible ability to mess up scientific experiments. Twitter
Angus Dunican
Angus will be doing an Entry from The Guide. He is a writer, actor, and award-winning stand-up comedian. He lives in denial about living in Croydon with his young family and a baby moose, masquerading as a dog. Twitter

The Story Beast
The Story Beast otherwise known as multi-award nominated comedian and Vogon Poet, John Henry Falle, who will be reading poetry from Douglas Adams' archive. He splits his time between scheming to become poet laureate for Jersey and fathering exponential numbers of children
Rachel Wheeley
Rachel is a comedian, podcaster and huge Douglas Adams fan who has presented various Douglas-related events in recent years, including the 2021 digital Douglas Adams Memorial Lecture and Stand Up for Towel Day on May 25th, 2017 – 2020. Rachel hosts "Walk the Pod", a daily walk-life podcast, encouraging people to take 10 minutes out of the day to walk in nature and pay attention to what's directly in front of them. Learn more about Rachel: Twitter profile.
If you have any questions about this event, please get in touch with us.